Built in 1861 by a Scottish spice merchant, The Sun House is beautifully sited on a leafy hill in Galle's best residential district overlooking Galle Harbour and the sea. Converted into a beautiful seven-bedroom boutique hotel, The Sun House maintains its authentic charm and elegance whilst providing guests with ample modern comforts as well as island-wide renowned delicious fusion cuisine.
Cooling breezes filter through the property, which is illuminated by beautiful period antiques and interesting works of art. Verandas lead to two gardens – characterized by a scented frangipani and a shady mango tree – that offer idyllic locations for reading, relaxing, writing and sunbathing.
The Sun House has just seven bedrooms comprising three standard rooms, two deluxe rooms and two romantic suites. All rooms except The Cinnamon Suite has air-conditioning.
Rooms
Sun and Sky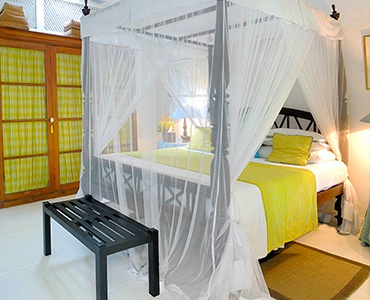 This charming double bedroom is characterized by tones of yellow and blue. It opens onto the mango tree garden from where the Galle Harbor can be seen at a distance.
Room Facilities

Air-conditioning

Coffee / Tea
Kingfisher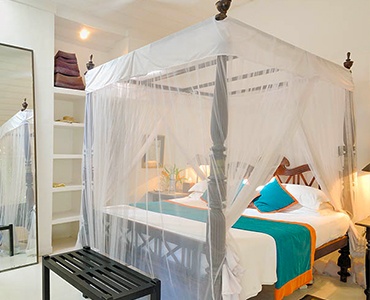 Decorated in shades of orange and blue this cozy double bedroom is filled with a four-poster bed and antiques, and opens onto the spacious mango tree garden with its views of Galle Harbor.
Room Facilities

Air-conditioning

Coffee / Tea
Parrot Fish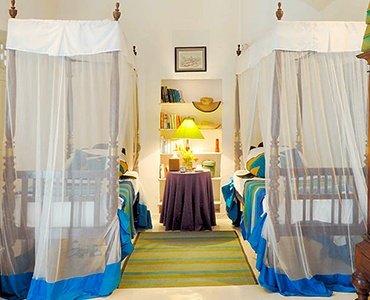 Featuring twin four-poster beds, this brightly colored room is furnished with antiques and decorated in Sri Lankan hand loom fabrics in shades of blues, yellows and greens. It opens onto the airy veranda and central courtyard of the hotel.
Room Facilities

Air-conditioning

Coffee / Tea
Hibiscus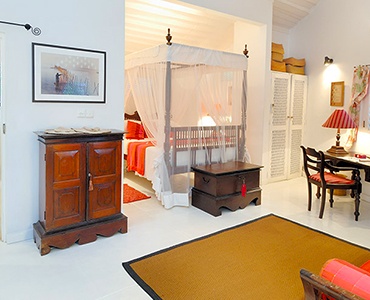 This beautifully decorated deluxe room is filled with antique furniture and highlighted by stunning fabrics in shades of pink and red. Opening onto the mango tree garden and airy veranda, its ensuite bathroom features an outdoor shower surrounded by tropical plants.
Room Facilities

Air-conditioning

Coffee / Tea
Araliya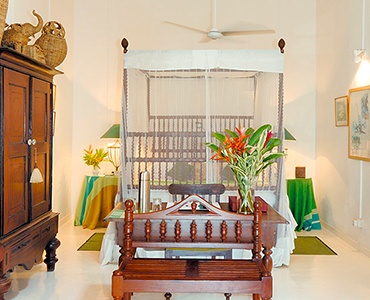 Beautifully sited overlooking the frangipani garden and swimming pool, Araliya is a chic deluxe room decorated in shades of green.
Room Facilities

Air-conditioning

Coffee / Tea
The Dumas Suite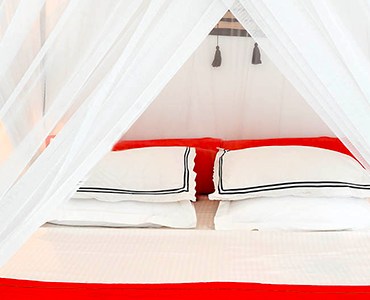 Named after the American designer who once lived in The Sun House, Dumas offers unrivalled views over Galle from its private location at the edge of the hill. Decorated in hues of pink, purple and red it is especially romantic and features a separate living area, a private balcony and a spacious bathroom with bathtub and shower.
Room Facilities

Air-conditioning

Coffee / Tea
The Cinnamon Suite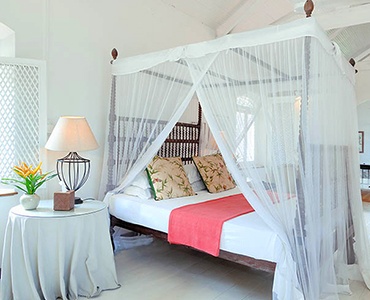 Occupying the first floor of the hotel, Cinnamon affords unforgettable views. The room features a dreamy bed, a private library and a sitting room from where spectacular sunrises can be viewed. It has an indoor bathroom and a balcony with an open-air bathtub. High ceilings allow fresh air to circulate while a fan keeps the temperature cool.
Hotel Facilities

Licensed Bar

Pool

Restaurant

WiFi
Cuisine
The Sun House cuisine is predominantly seafood, inspired by a fusion of Asian flavors and cooking styles from Sri Lanka, Thailand, Australia and the Mediterranean. Fresh produce is organically grown and sought from both local and Hill Country specialists whilst seafood comes straight from the ocean. Each year, an international chef is invited to come and conduct cooking classes for guests. The Sun House provides guests with a varied selection of excellent wines while spirits, cocktails and coolers can be enjoyed from the colonially ambient Dick's Bar. A stronger concoction in the form of the hotel's signature cocktail – the Sun House Sour – is a perfectly indulgent way to pass the sunset hour.
Just for the kids
Suitable for families with children over twelve.
Enquire Now
Get in touch with one of our knowledgeable travel experts to plan your Sri Lanka journey.