If you have been looking for stunning villa in the Cultural Triangle, look no further. Drive past the mango plantation to the reception overlooking the paddy fields for Kalundewa Retreat and this unique experience begins with a boat ride across the small river to the entrance of the house – you can also take the path round but the boat is much more fun!
Walk past the plunge pool on your left and into a living room with floor-to-ceiling glass and teak wood walls overlooking cranes posing on the water and peacocks on the banks. The young architect Sanat Liyanage is responsible for this beautifully designed space with an Observation Deck skillfully placed in the middle of 100 acres.
Rooms
Kumbuk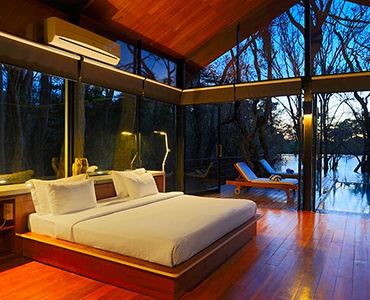 Surrounded by Kumbuk trees right round, the Kumbuk Chalet is a breath of fresh air where traditional style meets modern comforts. As a stand-alone building, it's perfect for honeymooners. The chalet is complete with a large bed, plasma tv, music system, minibar and ensuite bathroom with indoor and outdoor showers and it also has a plunge pool.
Room Facilities

Air-conditioning

Balcony

Coffee

WiFi
Bakmee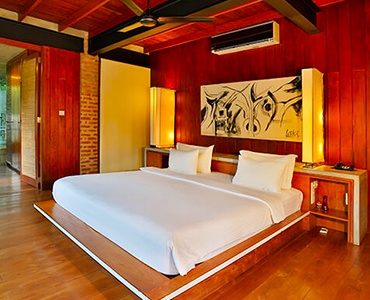 The two-story Bakmee Chalet is ideal for families or small groups. Perched on the edge of a lake, it overlooks the distant mountains. You can book the entire chalet or split it as the Upper Bakmee Chalet or Lower Bakmee Chalet.
Room Facilities

Air-conditioning

Balcony

Coffee

WiFi
Damunu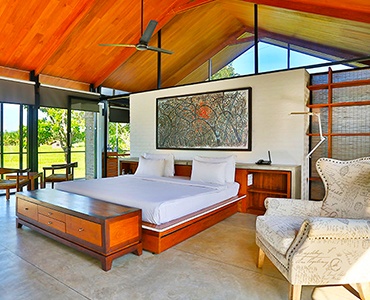 Catch the stunning sunrise as it creeps up over Kalundewa Mountain from the Damunu Suite which offers panoramic views of the distant mountain. Delicate, earthy interiors effortlessly blend into the background. Another option ideal for families.
Room Facilities

Air-conditioning

Balcony

Coffee

WiFi
Ehela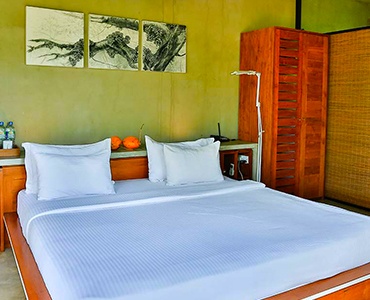 The Ehela Deluxe Room is found on the ground floor of the Damunu Suite with dancing paddy fields adjoining it. Absolute seclusion in a truly grounding choice of accommodation with just the right sprinkling of luxury. Great for couples.
Room Facilities

Air-conditioning

Balcony

Coffee

WiFi
Nika Suite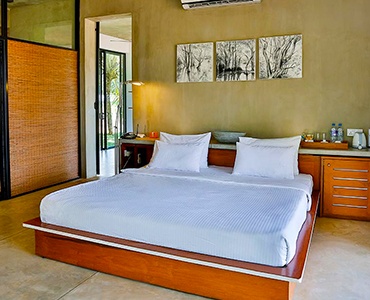 Kick your experience up a notch with the Nika Suite which looks across the magnificent Kalundewa Mountain. It's a ground floor suite, and comes with its own living room as well as a charming pathway that beckons you to a quiet outdoor nook perfect for outdoor dining. A popular choice amongst couples.
Room Facilities

Air-conditioning

Balcony

Coffee

WiFi
Hotel Facilities

Laundry Service

Library

Pool

Restaurant

WiFi
Cuisine
Enjoy an al fresco BBQ or delicious Sri Lankan meal throughout your stay cooked in traditional clay pots. Dig into mangoes, pomegranate, passion fruit, papaya, rice from their paddy fields, and vegetables from their garden – all homegrown. Note: They do not have a liquor license, so we can arrange for wine, beer and spirits to be delivered for you if you wish.
Just for the kids
Heaven for children but parents are advised to supervise kids at all times.
Enquire Now
Get in touch with one of our knowledgeable travel experts to plan your Sri Lanka journey.