We kick off our "Best Guides in Sri Lanka" series, with Ajith Fonseka, who is able to pull off an absolutely incredible holiday experience for his clients, every single time. Ajith knows the island like the back of his hand and has a caring and warm personality. With all his experience, we do wonder if he may be the one person who has climbed Sigiriya more than anyone else! From a bore who just wanted to escape the work pressure to an eccentric explorer, Ajith has come a long way.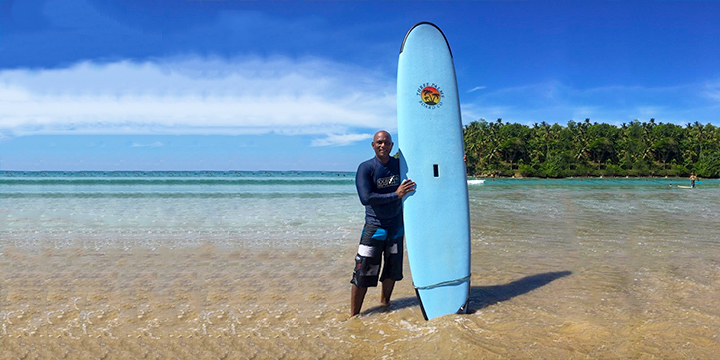 You flew to the UK to pursue your higher studies. Then you came back to Sri Lanka and stepped up the career ladder as a successful marketer. What inspired you to give up the glam of the corporate world and crisscross the country as a guide?
Well, I always wanted to come back to Sri Lanka. With time, I got tired of my 8-5 job. With stacks of files and truckloads of work, things came to a head. I found travelling and exploring my little island truly inspiring than sitting in front of a screen. In a nutshell that was how I quit my decade-long marketing career and started cruising across the country as a tour guide. This is a truly rewarding and inspiring career. As far as travel is concerned, it has become an integral part of my life. Today, I'm a qualified guide with years of experience up my sleeve.
As a guide you must have visited so many parts of the island. What are your all-time favorite spots?
Though I have explored almost every part of the island, the Cultural Triangle is my favorite part of Sri Lanka. The historic sites of Anuradhapura, Kandy and Sigiriya never fail to amuse me every single day I visit them. If climbing Sigiriya is on my client's bucket-list, I always join them, no matter how many times I have explored this mighty Rock Fortress that draw crowds from across the world. When it comes to coastal destinations, Passikudah and Nilaveli are my best picks. However, I really enjoy driving across the tea country because of its hit-the-breaks pretty scenery. No matter which way you turn, either rolling tea fields or silhouettes of looming mountains stretch as far as the eye could see.
When not travelling with clients, what do you do?
I have three wonderful kids and I spend time with them whenever I get a break from my frequent tours. Apart from that, I conduct lectures on travel and tourism, which enables me to share my knowledge with many.
As a National Guide, you have to travel with different client groups – families, couples and even mature travelers. What kind of groups do you enjoy travelling the most with?
Honestly, I'm more than happy to accommodate any client irrespective of the age groups and such. However, I love travelling with families who have kids. I even give them a hand to take care of the kids when the parents are busy with something. The trips with families are always a joyous affair.
You must have traveled with interesting clients and come across unforgettable encounters throughout the years. Tell us a little bit about one such incident that you would probably never forget.
There is this one incident I can never get over with. Once I took a European couple on a tour. They spent the previous night at Jetwing Vil Uyana in Sigiriya, and we were supposed to leave for Trincomalee the following morning. I went to the hotel early the next day and hit the road to take them to their next stop – Chaaya Blu in Trincomalee. As we passed the Kandalama Tank, suddenly I was asked to stop. The lady was having a severe chest pain and immediate medical assistance was needed. Without wasting a single minute, I sped along the main road in search of a hospital. The husband was also very shaken but he gradually collected himself. Though we came across a medical care center on our way, we were disappointed to see that it was closed. Next, I took them to Dambulla Hospital where the doctors hadn't still reported to work. A bubble of panic hit me but I was determined to find a hospital. At last, we admitted her to another local hospital in the same area. I ran here and there like a mad man to get some tests done from a laboratory as the hospital didn't have such facilities. Fortunately, she had suffered only a minor stroke and the doctor gave the green light to discharge her that night. However, I had arranged everything to take her back to Colombo on a helicopter. The funniest part was that she wanted to continue the tour! Believe me, she even went on snorkeling.
How do you describe your role as a tour guide?
In my point of view, the role of a tour guide is holistic. It goes beyond taking guests from one place to another. Simply, you have to make sure that your clients are having an experience of a lifetime. Also, you have to create value for the amount they spent for a certain tour. When it comes to generating value, it's a matter how you help them create lasting travel memories.
How to make this experience a part of your itinerary?
Our vision for our blog is to build an invaluable resource for independent inquisitive travelers wanting to travel to Sri Lanka in a way that goes beyond the conventional and takes people further and deeper both physically and emotionally. It's about having a fuller, richer, more meaningful trip. We also want to be a practical resource. Every article is 'actionable', you are able to make it part of your itinerary in some way. For tips on how to make any of these tips part of your journey send us an enquiry