In honor of ice-cream month, we thought of bringing you one of our delicious well-kept secrets in the coastal town of Weligama. This isn't about your average ice-cream truck that scoops up deliciousness straight from the deep freezer but an offbeat frozen treat to tingle your taste buds. This vibrant bowl of ice cream has cropped up all over social media this summer.
Just a few steps away from the beach strip in Weligama, is a lorry painted in turquoise blue, decorated with an unerring eye for the boho appeal. Eager to get their hands on "Nice Cream", both locals and foreigners flock to it, a sight hard to miss. It's a time capsule of childhood seaside ice-cream in European coastal towns.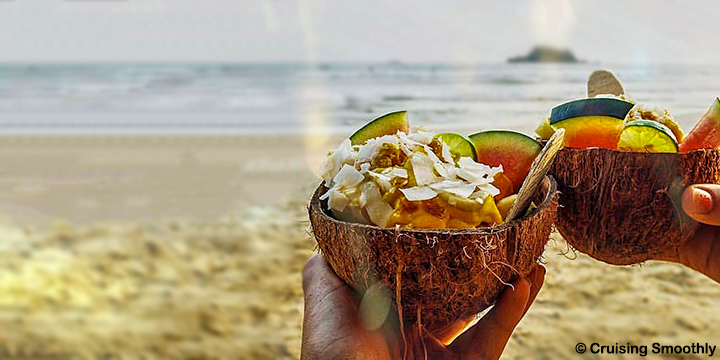 The treats at "Cruising Smoothly" is dedicated to all things tropical and we wonder whether this is the most photogenic ice-cream in Sri Lanka: it's a definite contender- a couple of thick ice-cream scoops topped with caramelized lentils, chunks of fresh tropical fruits, and coconut flakes and served in a coconut shell bowl laid on a piece of banana leaf. The bright reds, yellows and greens of the mangoes, passion fruit, avocadoes, ripening papayas and vibrant pineapple seem to reflect the colorful Sri Lankan identity, and Nice Cream is simply a concoction of them all.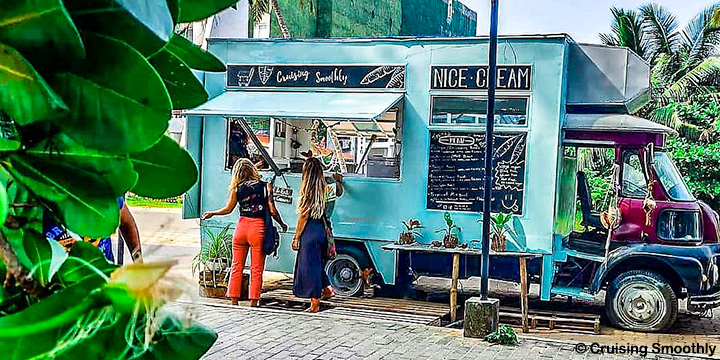 All year round, the sun is shining in Sri Lanka and that means just one thing: we all scream for ice-cream! But not all of us are happy to indulge in a regular cone of ice-cream. The Nice Cream of Cruising Smoothly comes with a healthy twist on the usually decadent treat, and is a guilt-free pleasure. All ice-creams offered by Cruising Smoothly are gluten-free, and come infused with the freshest tropical flavors including soursop, lime, papaya, watermelon, mango, pineapple and moringa. It's a 100% fruit-based treat, non-dairy and nuts-free. Though there's a range of tantalizing fruity bowls on offer, mango, pineapple and passion fruit are the all-time favorites.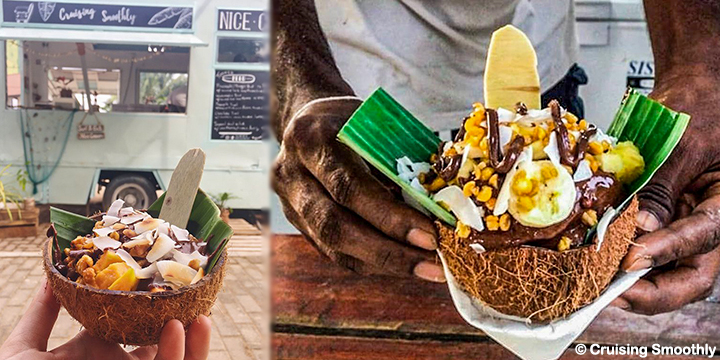 Founded by a passionate European together with her Sri Lankan partner, Cruising Smoothly promotes the beautiful tropical identity of the island while contributing to conserve the quaint coastal town of Weligama. "The container, in which the ice-cream is served is a cleaned coconut shell and a handmade wooden spoon is also offered to taste our delicious Nice Cream. Despite the natural beauty of the island, Sri Lanka is facing the challenge of the devastating plastic pollution, and thus we thought of going plastic-free. Also, we encourage our customers to leave the used bowls and spoons in our "Reduce, Reuse, Recycle Box" so that we can clean them and reuse", they said.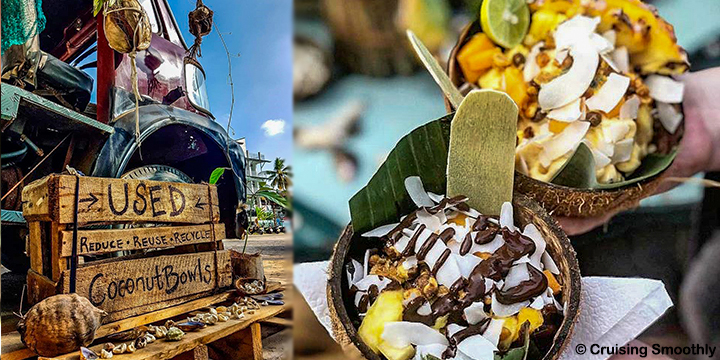 Cruising Smoothly that has become a sensation in Weligama, has also joined hands with the surfing community in the area to take the anti-plastic movement to the next level. They're carrying out various activities such as beach clean-ups to make the laid-back coastal haven plastic-free.
So whether you want to enjoy a scoop on the run to beat the heat or if you're just looking to check out some amazing local flavors, indulging in a scoop of Nice Cream will no doubt be a great idea.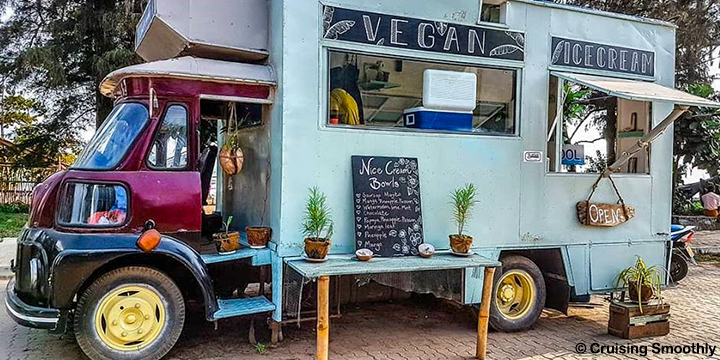 How to make this experience a part of your itinerary?
Our vision for our blog is to build an invaluable resource for independent inquisitive travelers wanting to travel to Sri Lanka in a way that goes beyond the conventional and takes people further and deeper both physically and emotionally. It's about having a fuller, richer, more meaningful trip. We also want to be a practical resource. Every article is 'actionable', you are able to make it part of your itinerary in some way. For tips on how to make any of these tips part of your journey send us an enquiry