Selfcare in Sri Lanka – Connecting to New Cultures

Back
The trend of selfcare has been one of the hottest topics of the last decade. Even prior to the pandemic, which saw personal wellbeing rise to the top of the priority list for many, as a society we were gaining a growing awareness of how our lifestyle can positively or negatively impact our mood. Looking after ourselves physically has always led the way in the healthcare movement, but now it is apparent that the nourishment of our mind and soul needs to play a part as well.
Mental wellbeing, commonly achieved through physical movement, immersion in nature, and connecting with new cultures and old passions, is now also one of the key pillars of personal wellness. With more people than ever before prioritizing health and happiness, it is unsurprising that trips for selfcare are a popular choice for 2023 – and Sri Lanka is an epic destination for wellness.
In this blog series, we will look at three different types of trips for selfcare: exploring the great outdoors; experiences for the soul, and connecting to new cultures. Its rich, diverse, and inspiring culture truly feeds the soul, making Sri Lanka is the ultimate choice for a wellness holiday – whatever that might mean for you. Start getting inspired for your selfcare trip with this guide to connecting to new cultures in Sri Lanka.
Conversation with local people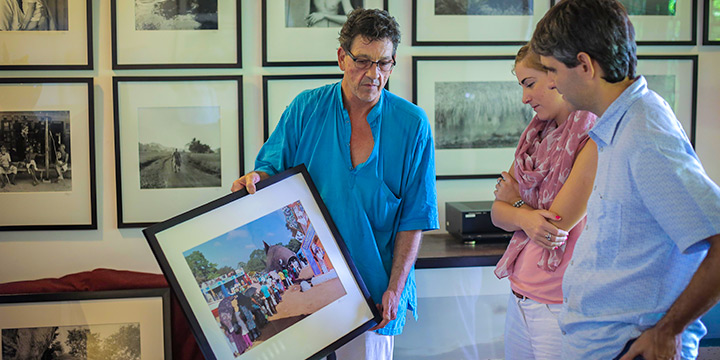 If you want to connect to new cultures through conversation, Kandy is the perfect destination for your Sri Lanka wellness holiday. The last royal capital of the island with its own fiercely independent spirit, Kandy is overflowing with long-held traditions that are fascinating to discover. Go on an expert-led guided tour of ancient Buddhist temples and Kandy's crowning glory, the Temple of the Tooth. Visit one of the only female monastic communities in Sri Lanka to converse with Buddhist nuns. Hear stories from a noted photographer as you browse his vast collection of local pictures, spanning decades and covering some of the most significant parts of Sri Lanka's recent past. Sit with an artist for tea and conversation ranging from painting and philosophy to modern day Sri Lanka.
Take a traditional cooking class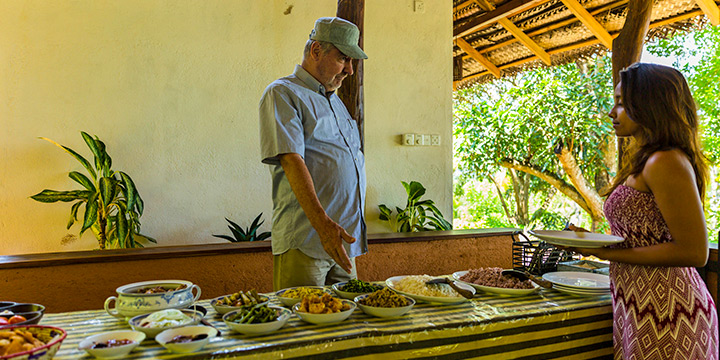 One of the best ways to discover the core of a new culture is by sampling the traditional cuisine. Taste the array of spices that are grown on the island and give Sri Lankan dishes their unique color and flavor. You can even go on a tour of a plantation to see the spices growing before they are ground. Try the dishes that were brought to Sri Lanka from far flung lands, such as Dutch-inspired lamprais and fiery Malay achcharu. Learn how to make local favorites yourself, from Indian-influenced biriyani to the mouth-watering staple 'rice and curry', a collection of seven unique dishes.
Indulge in a sensory experience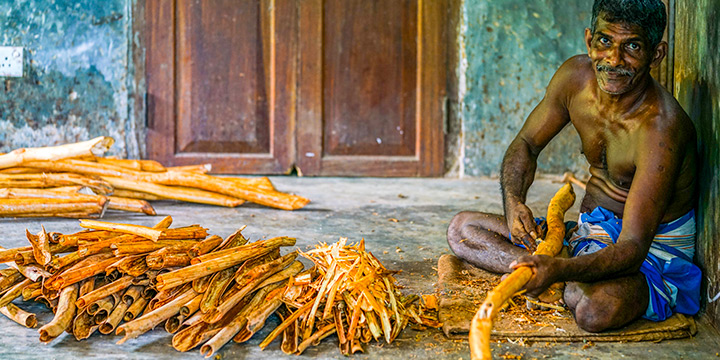 As well as finding mental nourishment through your tastebuds and the rhythm of cooking, you can indulge in other sensory experiences in Sri Lanka to bring a sense of peace and spiritual renewal. Visit the cinnamon plantations surrounding Galle to see how this spice is grown, cut, peeled, and processed, and learn how it is used in Ayurvedic holistic treatments as well as Sri Lankan cuisine. Meet a sustainable farmer in the hills and wander his coffee and cocoa plantation. Discover how to process world-renowned Ceylon tea followed by a trek around a tea estate. Walk through the woods with one of the last surviving communities of Veddas, Sri Lanka's indigenous people.
Learn a new skill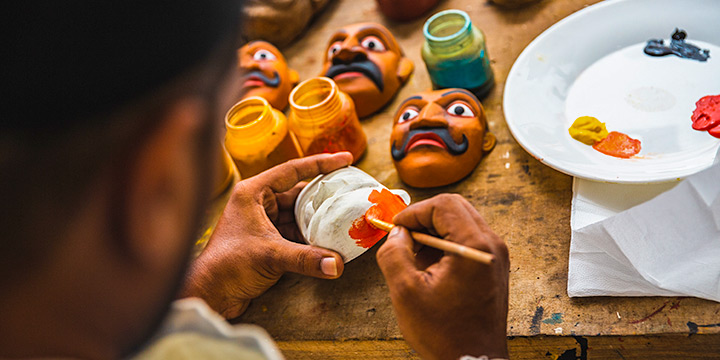 Last but certainly not least, a great way to replenish self-worth and recharge low batteries is to learn a new skill. You never know, a temporary hobby may transform into a lifelong passion! Adults and children alike will love doing the mask carving class with one of Galle Fort's leading craftsmen. The more musically minded among you will delight in learning how to play a traditional Sri Lankan drum. If you are feeling energetic and keen to be outdoors, take a surfing class, experiment with white-water rafting down grade II and III rapids, or go canyoning on the Kelani river – the choice is yours!
How to make this experience a part of your itinerary?
Our vision for our blog is to build an invaluable resource for independent inquisitive travelers wanting to travel to Sri Lanka in a way that goes beyond the conventional and takes people further and deeper both physically and emotionally. It's about having a fuller, richer, more meaningful trip. We also want to be a practical resource. Every article is 'actionable', you are able to make it part of your itinerary in some way. For tips on how to make any of these tips part of your journey send us an enquiry