Selfcare in Sri Lanka – Exploring the Great Outdoors

Back
Selfcare is a trend that has been on the rise for the last decade. Even before the long lockdowns of 2020, which saw many of us renew our focus on personal wellbeing, people were becoming increasingly aware of how our lifestyle can positively or negatively affect our mood. Good diet and physical exercise were at the forefront of the healthcare movement, but pretty soon it became clear that emphasis also needed to be placed on reducing stress levels and reconnecting with the world around us. Mindfulness, commonly in the form of yoga and meditation, moving in nature, and connecting with new cultures and old passions, is now also one of the key pillars of personal wellness. With more people than ever before prioritizing health and happiness, it is unsurprising that trips for selfcare are a popular choice for 2023 – and Sri Lanka is an epic destination for wellness.
In this blog series, we will look at three different types of trips for selfcare: exploring the great outdoors; experiences for the soul, and connecting to new cultures. With its spectacular varied landscapes, opportunities for spiritual nourishment, and inspiring unique culture, Sri Lanka is the ultimate choice for a wellness holiday, whatever that might mean for you. Kick off your selfcare trip inspiration with this guide to exploring the great outdoors in Sri Lanka.
Trekking in the Hills
One of the best things to do in Sri Lanka is undoubtedly trekking in the hills. The island's central region is a raised rocky landscape covered in terraced tea estates, legacy of the British colonial period in the 19th and 20th century. The hill country is also home to racing rivers and gushing waterfalls, wildflower meadows, patches of pine forest and barren cliffs, making for sensational scenery as you explore.
Serious hikers will love taking on The Pekoe Trail, a new walking route that covers the entirety of the tea hills from Kandy to Ella. If escaping the crowds is a priority, trek Taylor's tea estates and the UNESCO-protected Knuckles Mountain Range close to Kandy. Amazing views are found all over, but real highlights are Horton Plains National Park, Castlereagh Lake, and the hills around Haputale.
Cycling Adventures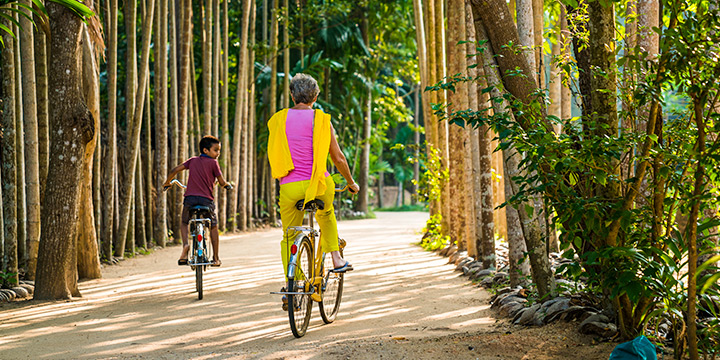 While we wouldn't recommend a full cycling tour of Sri Lanka, there are plenty of opportunities for getting on your bike during your trip. Some of the most soothing rides are around the Galle countryside, just inland from popular south-west beaches. Glide past glimmering emerald paddy fields dotted with white egrets and small rubber plantations and stop off for a refreshing thambili (King coconut) along the way. You can also cycle to a rural village close by for a traditional cooking class or simply to sit and sample fresh local dishes such as hoppers with spicy sambol. Other options for cycling in Sri Lanka including touring the sprawling ancient cities of Anuradhapura and Polonnaruwa, or exploring the winding woodland paths around remote eco-retreat Ulpotha.
Kayaking in Kitulgala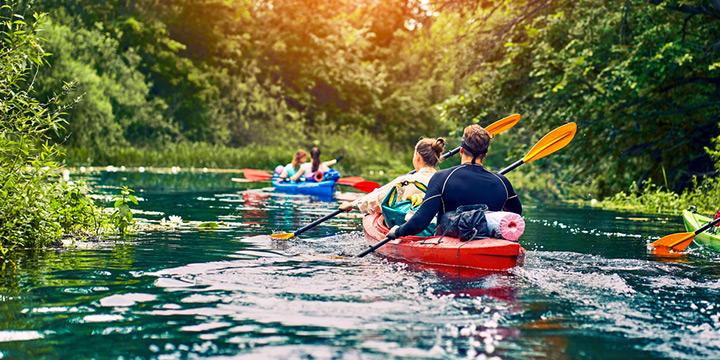 To get really off the tourist trail, visit Kitulgala for kayaking and white-water rafting on the Kelani River. With grade II and III rapids, expert instructors, and international standard safety equipment, this is an adventure that the whole family will love. You can also try your hand at canyoning in this area, clambering up to the top of the dramatic stone slopes that flank the river and then abseiling your way down to a calm spot where you can test your daring with exhilarating free-jumping.
If you are seeking a complete retreat from urban life, this area also offers a truly special experience in the form of a three-night canoeing and camping journey along the Mahaweli River. Part of the route passes through a remote national park where elephants drink and bathe along the bank. This promises to be an unforgettable adventure for adults and older children who are not afraid to immerse themselves in wilderness.
Wondrous Watersports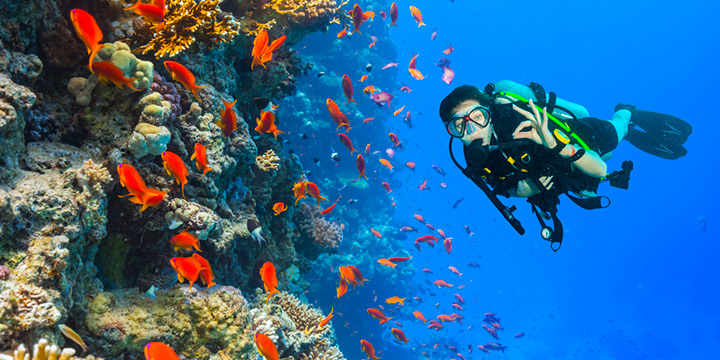 As a tropical island, an exploration of Sri Lanka's great outdoors would not be complete without indulging in some exhilarating sea-based watersports. The country has options to suit any age and skill level, from serene sailing expeditions to private coves to snorkeling and scuba diving around coral reefs and haunting shipwrecks rich in vibrant sea creatures including the elusive whale shark.
Surfing in Sri Lanka is highly rewarding: the island is one of the top ten surfing destinations in the world, and experienced surfers will find thrilling waves almost all year round. East coast town Arugam Bay is a particular hotspot between May and September, while southern Hiriketiya Bay is the new favorite for travelers visiting between December and March.
How to make this experience a part of your itinerary?
Our vision for our blog is to build an invaluable resource for independent inquisitive travelers wanting to travel to Sri Lanka in a way that goes beyond the conventional and takes people further and deeper both physically and emotionally. It's about having a fuller, richer, more meaningful trip. We also want to be a practical resource. Every article is 'actionable', you are able to make it part of your itinerary in some way. For tips on how to make any of these tips part of your journey send us an enquiry