A guide to finding Sri Lanka's big cats
Sri Lanka is one of the best destinations in the world for a wildlife holiday. Astonishing diversity on a small scale means that travelers can see an incredible variety of animals in one car-and-driver tour. In addition to the iconic elephant, the Sri Lankan leopard is the star of a Sri Lanka wildlife tour.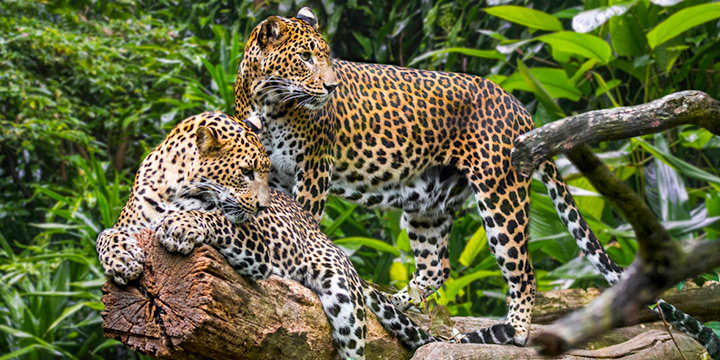 Looking at Sri Lanka's leopards
Sri Lanka's leopards are special in many respects.
Although it is the lion that adorns the Sri Lankan flag and many of its ancient temples, leopards are the island's crowning cat. Sitting at the top of the food chain, there are almost 800 leopards in Sri Lanka. However, these elusive creatures are rarely seen together in a 'leap' – they prefer to prowl alone.
Sri Lankan leopards are also special because they are a subspecies. Known as Panthera pardus kotiya, these leopards are not found anywhere else in the world.
Where can you find leopards in Sri Lanka?
Sri Lanka's leopards can be found in several of the country's 26 national parks.
These solitary creatures spend their days prowling through the undergrowth in search of prey, drinking and bathing by the lake, and languishing in the shaded treetops to avoid the midday sun.
Discover the best places to find leopards in Sri Lanka, from Wilpattu in the north-west to Yala on the south-east coast.
Top Sri Lanka national parks for leopard spotting
Yala National Park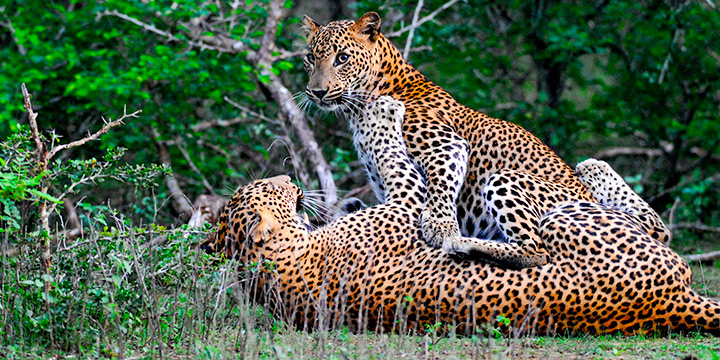 Yala National Park is known as the best place to spot leopards in Sri Lanka. This is because Yala has the highest density of leopards of anywhere on the island. However, this statistic means that the park often has a high density of tourists too, especially in the peak season from December to March.
However, with five different zones to be explored, it is possible to find quiet corners of the park. In addition to its rugged coastline, Yala is comprised of dry grass fields, arid scrubland, and pockets of jungle. Other animals that call this park home include elephants, sloth bears, and crocodiles.
Kumana National Park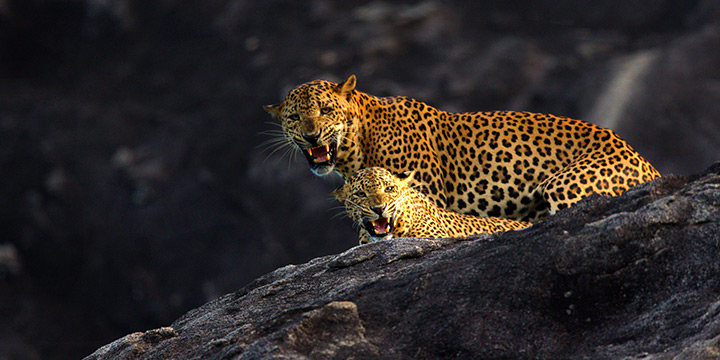 Neighbor to Yala, Kumana National Park is a smaller but more tranquil option for those seeking to spot leopards without the crowds. Sightings are rarer here, but the scenery is just as stunning.
This park is primarily a bird sanctuary, its sprawling mangrove lagoon providing a perfect nesting ground for many migrating species. Visit in May and June to see eye-catching water birds such as painted storks, herons, egrets and pelicans.
Wilpattu National Park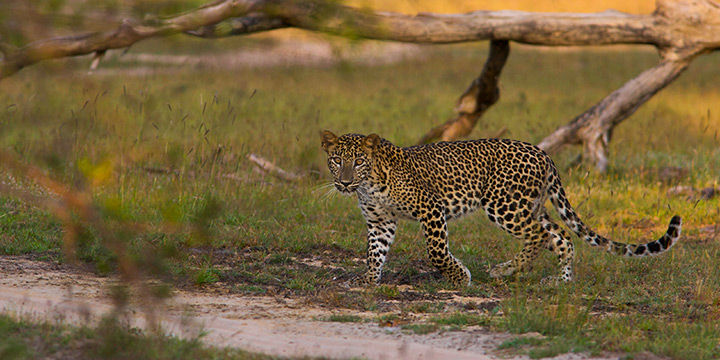 In the opposite corner of the country to Yala is sensational Wilpattu National Park. This is the largest and most beautiful wildlife reserve in Sri Lanka. Despite being the biggest wildlife park, Wilpattu's remote north-west position means that it is away from the main tourist trail and is therefore much quieter than Yala in terms of tourist numbers. Covered by a network of interlaced lakes, this jungle-rich park hides leopards in the undergrowth as well as sloth bears and endless species of bird.
How to spot leopards on a Sri Lanka holiday
The most important thing to consider when planning how to spot leopards on a Sri Lanka holiday is the time of year. Most of the months offer excellent chances for sightings but it is not equal year-round.
The best time to see leopards in Sri Lanka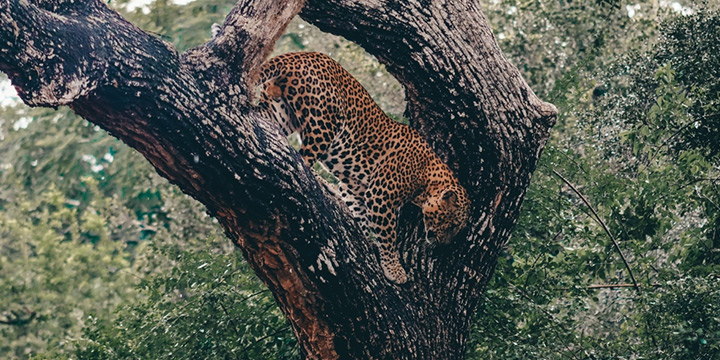 The best time to visit Yala National Park is between December and August. Foliage is lush at the beginning of the year, becoming increasingly sparse up to the end of August. Yala National Park closes in September and October, and November is predominantly wet due to the monsoon rains.
Wilpattu has similarly glorious foliage between December and March and its spectacular tapestry of lakes is full to the brim. However, the summer months are the best time to visit Wilpattu National Park as the dry season draws increasing numbers of animals to the watering holes. In July and August, look out for sloth bears as they feast on the fallen fruit from the Palu tree.
Do you need an expert wildlife tracker?
You can explore Sri Lanka's national parks independently with just a jeep and driver, but wildlife lovers eager for incredible sightings should definitely use a guide. The best expert wildlife trackers in Sri Lanka are attached to the leading hotels and camps close to the national parks. These hotels often offer additional wildlife experiences, such as nature walks and educational activities for kids.
Where to stay to see leopards in Sri Lanka
Best wildlife hotels in Yala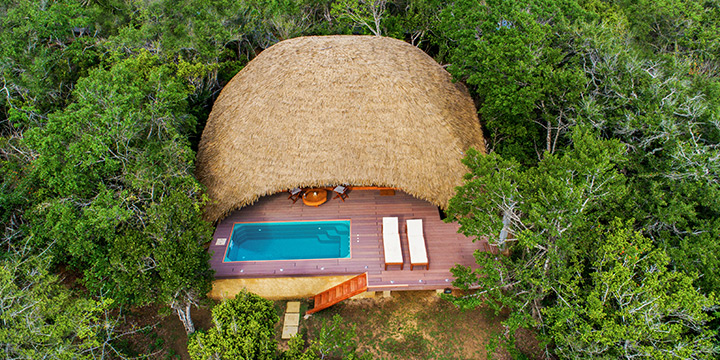 This 14-lodge hotel is set on a stretch of rugged coastline just five minutes from the entrance to Yala National Park. Its waterfall swimming pool, unmatched privacy, and premium jeeps set it apart. Rooms are lavish with a unique design, ideal for couples on a romantic getaway. First-class dining.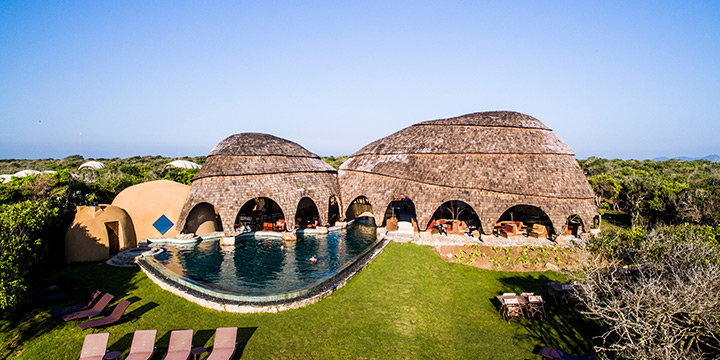 One of the most exquisite boutique hotels in Sri Lanka in terms of design, Wild Coast has a similar location to Chena Huts. Its long swimming pool winds languidly around the property, passing through the bar and an open-sided restaurant. As a Relais & Chateaux hotel, you are assured of excellence.
Best wildlife glampsites in Sri Lanka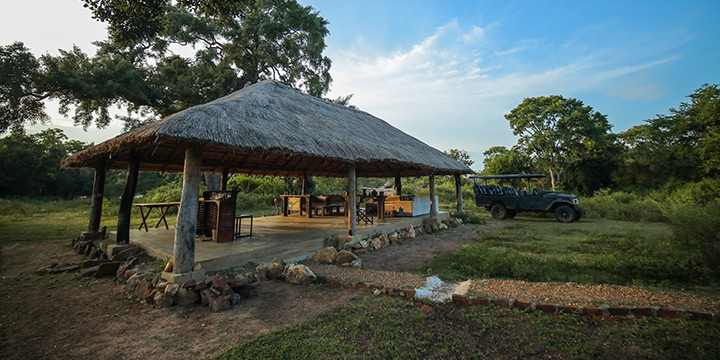 Expert knowledge and an enormous passion for wildlife is what sets the guides at CWS apart. Luxurious tents house all your creature comforts and have a private plunge pool to boot. Photography is a big interest of all the guides, and they will help you to get the perfect shot.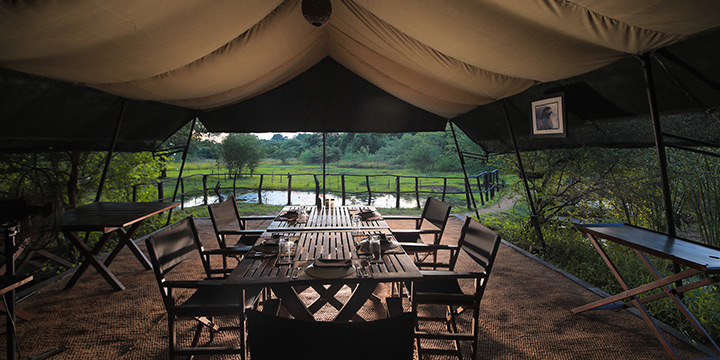 For a serene experience that you won't forget in a hurry, book a stay at Leopard Trails Wilpattu. Surrounded by jungle on the border of the park, your soundtrack here is nothing but birdcall. Delicious traditional cuisine is served, at night by a bonfire under the stars as you relive your day.
Don't miss Sri Lanka's secret leopards
A guide to exploring Horton Plains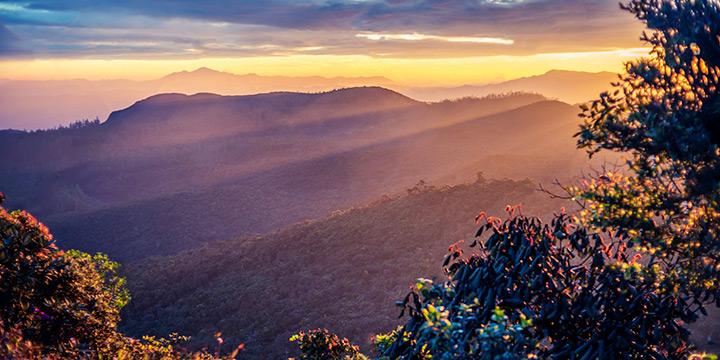 One of Sri Lanka's best kept secrets is that you can spot leopards at Horton Plains National Park. This high elevation wildlife reserve is best known for its astonishing panoramic views at Worlds End and picturesque walk to Baker Falls. Primarily, wildlife sightings include the majestic antlered Sambar Deer and a host of endemic and migratory birds.
However, what most people don't know is that Horton Plains is also home to Sri Lanka's secret leopards. Sightings are rare, but with patience and expert guidance you may see one prowling through the undergrowth… You can explore Horton Plains National Park on foot or by jeep.
How to make this experience a part of your itinerary?
Our vision for our blog is to build an invaluable resource for independent inquisitive travelers wanting to travel to Sri Lanka in a way that goes beyond the conventional and takes people further and deeper both physically and emotionally. It's about having a fuller, richer, more meaningful trip. We also want to be a practical resource. Every article is 'actionable', you are able to make it part of your itinerary in some way. For tips on how to make any of these tips part of your journey send us an enquiry