Polonnaruwa and its ancient ruins is the ultimate forest playground of one of man's closest relatives, the Toques monkeys. The second kingdom of Sri Lanka is a complex ancient civilisation devoted to Buddha and his teachings, science, advanced irrigation systems, medicine that cured snakebites in a bath and grand architectural designs. Abandoned for around seven hundred years by man but not by beast, the Toque Macaque monkeys, one of three species found in Sri Lanka, still remember who they are and what they are doing here, in the incredible ruins of this magnificent UNESCO World Heritage site.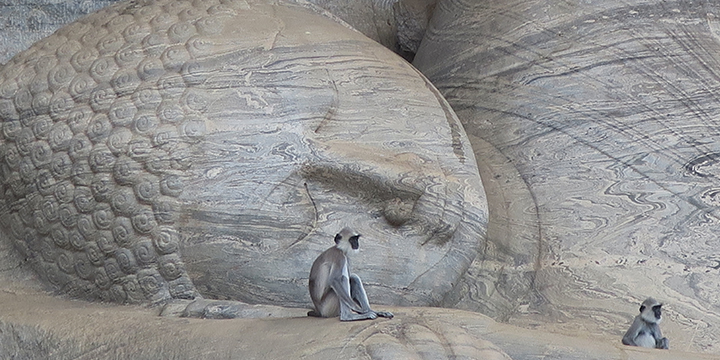 Toques are easy enough to identify as adults they look comic with their full head of hair resembling a brimless hat, possibly giving rise to the original haircuts we saw The Beatles sporting in the 1960s music scene, but certainly giving rise to their name, Toque, meaning 'whorl of hair'. One of the 38 troops of monkeys' favourite playgrounds is the deserted seven story palace that has collapsed and now resembles something more mysterious and nostalgic, like Stonehenge, with its remaining three storeys of stones strewn everywhere. Another spot is the giant Buddha's hewn out of the gigantic rock face, where pilgrims come to make special prayers early morning and donate offerings of fruit and flowers.
I learn from the Walt Disney documentary film about the Toques Maya in The Monkey Kingdom film in which they make birdlike noises when alerting others to threats such as pythons, as they have excellent eyesight, protecting us as we follow them through the bushes. Interestingly, until the Toques monkeys reach the age of one, they can't talk and, when the alarm call comes saying snake in tree ahead, the mothers of the group pick up the nearest baby and climb the trees to escape it, where they return the young to the rightful mother.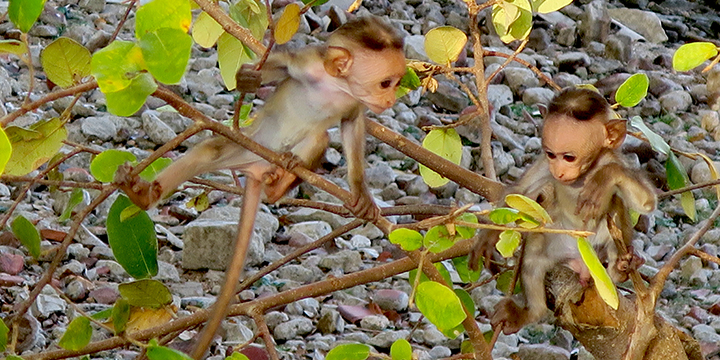 However, the monkey troop, when presented with danger from another group of toques trying to take their territory, act like they are in a scene from Gangs of New York, and the fighting calls and beating of the chests is incredibly dramatic. Luckily, with a Smithsonian Guide all of this will be explained in great detail, when you go out in search of them at the crack of dawn. The guides who also act as researchers know the names of every monkey in the site, and all their different personality traits. Every tour is different and amazing as you learn all about these Walt Disney stars without getting stuck in the fray. Although like all stars the Toques are just as interested in us and may sneak up on you from behind a tree for an instagram moment or to give you a spot of grooming. The group on my monkey tour all secretly admitted over tea afterwards that they rather fancied having a Beatles rock and roll Toque style hair do and an ancient kingdom with all to themselves.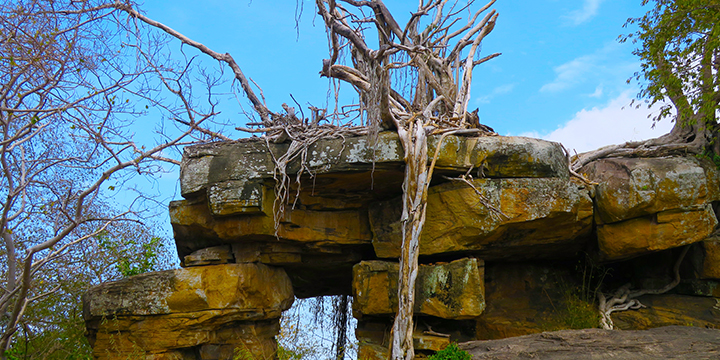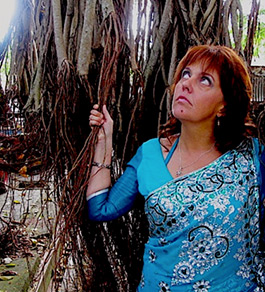 Photojournalist & book author, Juliet Coombe is an inspiring storyteller who has written, while based in Asia, numerous books about Sri Lanka, including the first guide to the North and the East Sri Lanka's Other Half, Around The Galle Fort in 80 Lives, Generation Tea, Colombo City Guide, The Power Of Sri Lankan Art, and a ground breaking environmental guide, Paradise Exorcised, for Premium brand Jetwing Hotels & Travels. Her work has appeared in Lonely Planet books, Insight Guides, Metro travel sections, Get Lost Travel Magazine in Australia, Connoisseur Magazine and through Getty images who represent her worldwide. Her travel portfolio of images is used in magazines, newspapers and online all over the world.
How to make this experience a part of your itinerary?
Our vision for our blog is to build an invaluable resource for independent inquisitive travelers wanting to travel to Sri Lanka in a way that goes beyond the conventional and takes people further and deeper both physically and emotionally. It's about having a fuller, richer, more meaningful trip. We also want to be a practical resource. Every article is 'actionable', you are able to make it part of your itinerary in some way. For tips on how to make any of these tips part of your journey send us an enquiry