In Sri Lanka, the Sinhalese and Tamil communities celebrate New Year when the Sun enters the zodiac of Aries, which falls in April. For both communities, the New Year is one of the most important events of the year and brings together families as they practice a number of traditions. Sinhalese and Tamil traditions differ, but the joint celebration of the New Year unites these two prominent communities. Here is my experience of the New Year, and what it means for the Sinhalese community and our island.
The lead up to the main day, which falls on April 14, begins with the distinctive bird call of the Asian Koel that sing during their breeding season in March. After hearing this indicator, my family start to shop for ingredients for the feast on the 14th and select a few gifts for family members and relatives. We then make time to speak to or visit our closest relatives in the weeks that follow, and share tasks at home to get our house looking its best for the New Year.
If you are somewhat close to a village, you will witness some hilarious New Year's games. One game requires you to balance a lime on a spoon and the fastest to cross the finish line wins, similar to the 'egg and spoon race' practiced by children in England. Another favourite is climbing a heavily-greased 80ft pole and trying to grab the flag at the top.
The bravest participants balance themselves on a horizontally-placed coconut tree trunk and wrestle an opponent with a pillow: the one who falls from the tree trunk loses. Kids also love to do sack races where they have to get their legs inside a rice bag and hop their way to the finish line. These traditional sporting events bring an entire village together to share a hearty laugh.
Traditions begin on the last day of the 'old year', April 13. The first tradition is to apply herbal oil on your hair before taking an outdoor shower – this is to purify yourself for the upcoming year. The traditions that follow have specific auspicious timings that are usually followed strictly.
The first is a 12-hour time period known as the 'neutral time', during which you are supposed to follow religious activities rather than material pursuits. Religion is an important aspect of the Sinhalese culture, and most Buddhists visit their local temple during this time. The next is preparation of food, it is also customary at this time to boil a pot of milk and let it overflow, to signify prosperity in the coming year.
The main tradition is the meal. Usually the table is laid out with the brass oil lamp, milk rice and a number of accompanying traditional sweets. Before dining, there is an exchange of money, a practice of giving and receiving that I sometimes looked forward to more than the food when I was a kid. We then sit down at the table and the eldest member of the group will feed you a morsel of food. Afterwards, when we are all ravenous, we dig into the long-awaited feast and share memories of previous New Year celebrations.
After a couple of hours, it is then customary to visit your neighbours with the food you have prepared. This tradition signifies sharing amongst your community and it is a great time to catch up with friends. Usually over the next couple of days, we make time to visit our closest relatives.
The New Year is an event that brings families and communities together. We recommend participating in or witnessing some of these traditions if you're traveling in Sri Lanka during the month of April.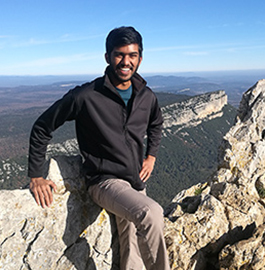 Dilanke stumbled in to the travel industry whilst completing his Management Accounting examinations and has been rediscovering his passion for travel since then. He has designed many luxury experiential holidays to Sri Lanka for several years before his short stint at Yala National Park as a safari guide. Since 2016 he is managing Pepper Life, a company that designs and develops unique travel experiences to connect travelers to the people and culture of Sri Lanka.
Dilanke Panagoda
Head of Business Development - Pepper Life
How to make this experience a part of your itinerary?
Our vision for our blog is to build an invaluable resource for independent inquisitive travelers wanting to travel to Sri Lanka in a way that goes beyond the conventional and takes people further and deeper both physically and emotionally. It's about having a fuller, richer, more meaningful trip. We also want to be a practical resource. Every article is 'actionable', you are able to make it part of your itinerary in some way. For tips on how to make any of these tips part of your journey send us an enquiry