The commercial capital of Colombo is an exotic melting pot of flavors. From the classics to the latest game-changers, here are the best restaurants in Colombo right now.
Rare at Residence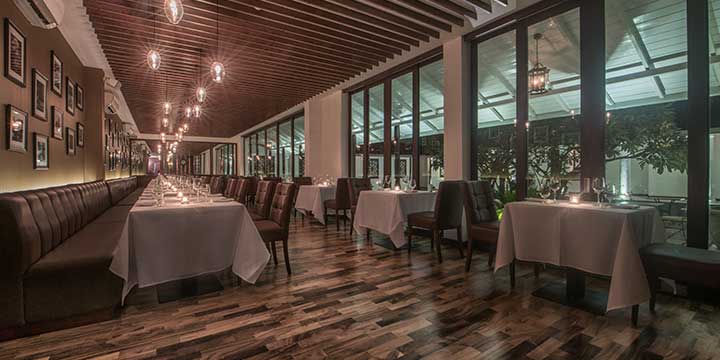 A rare culinary gem nestled in Colombo, Rare at Residence serves up exceptional dishes with an emphasis on locally sourced ingredients. For fine dining in Colombo, there is really nothing close to the artsy dishes prepared at Rare. Its aesthetically pleasing ambience featuring rustic walls, plush sofas and opulent décor, sets the tone for unencumbered epicurean enjoyment. The menu is indulgent to say the least: Lobster bisque, succulent Yellow fin tuna rossini, or Slow cooked lamb shank. Even the simplest salad is brought to the table with creative touches that make it a feast for the senses.
Monsoon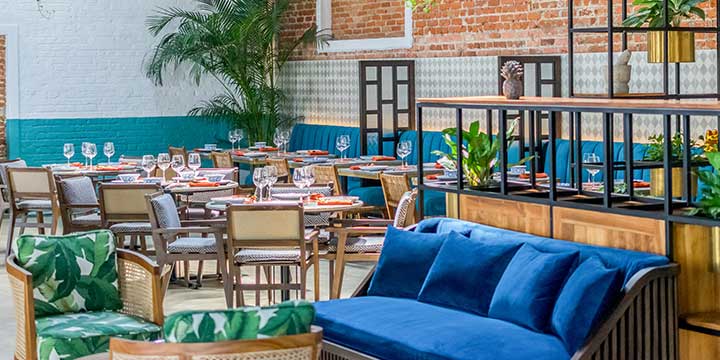 Located at Park Street Mews, Monsoon is stunning, with lighting that glows as if to compliment the warmth of the food being offered. The bright orange exterior of the restaurant is a splash of vibrancy added to the cobblestoned alleyways and rustic ambience of Park Street Mews. You will find exquisite South Asian street food prepared with a modern twist at Monsoon. Drop by for an atmospheric cocktail, a selection of arty small plates (don't miss the prawn sarong, or phad thai laced with prawns, chunks of fried tofu, egg and beans), and a good catch-up with your family and friends. The stroll along the cobbled streets of Park Street Mews adds to the charm of the experience at Monsoon. Especially at night, when the whole area is illuminated with strings of fairy lights.
Ministry of Crab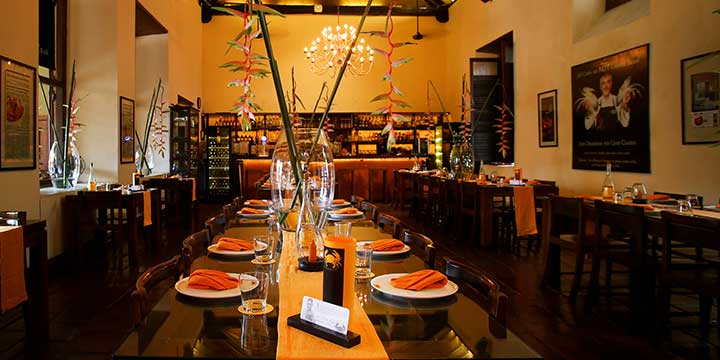 The brainchild of cricketing stars Mahela Jayawardena, Kumar Sangakkara and Sri Lanka's master chef Dharshan Munidasa, Ministry of Crab (MoC) is the temple of seafood in Colombo, especially crab dishes as its name implies. Taking the name of the island to international heights, MoC has made its way to 'Asia's 50 Best Restaurants' List year after year. Dharshan plays with dishes, modernizes traditional recipes, experiments with ingredients and whips up delicious dishes. Housed in the Old Dutch Hospital, one of the oldest and most beautiful buildings in Colombo Fort, MoC sets the perfect ambience to feast on a succulent crab fiesta. Crab Liver Pâté, Garlic Chili crab and Butter crab are some of the favorites here and a very interesting loaf of bread, baked in wood-fired ovens makes the perfect accompaniment to your meal.
Paradise Road The Gallery Café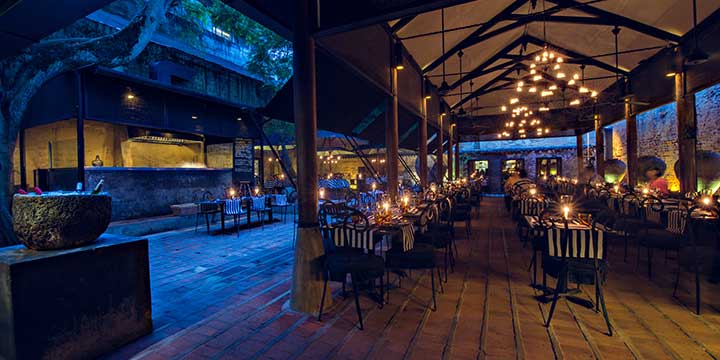 An exquisite space designed by the late Geoffrey Bawa, Paradise Road the Gallery Café is a must try restaurant in Colombo for the sophisticated traveler who enjoys the fine things in life. The carefully curated menu features a range of local, Western and Italian dishes to suit your palette. Dishes that have become fixtures on the menu include Mediterranean Prawns with saffron risotto, Black pork curry, Pan fried calves' liver and Lemongrass and ginger chicken. Paradise Road the Gallery Café is special for yet another reason—there's an art gallery within the premises of the restaurant that displays stunning pieces created by various artists.
Nihonbashi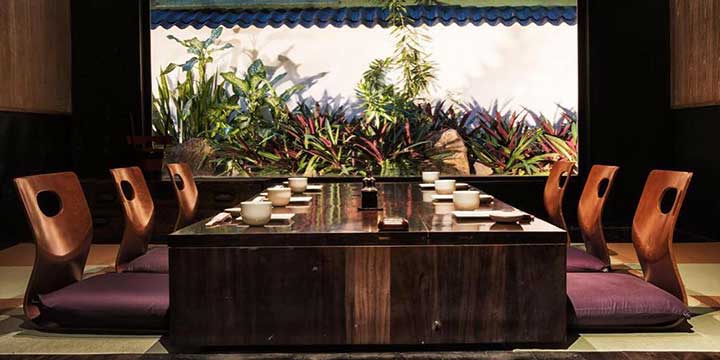 A Japanese restaurant of international acclaim, Nihonbashi has a distinctive design featuring serene rock gardens and bamboo walls which transport the diner to a Zen-like tranquility. The first restaurant of Chef Dharshan Munidasa, Nihonbashi has also made its way to 'Asia's 50 Best Restaurants' List several times. Synonymous with fine Japanese cuisine—perhaps the finest in Sri Lanka—Nihonbashi brings down most of its ingredients from Japan, hand-picked by Dharshan himself. Go for shabu shabu, thinly sliced wagyu dipped in a sesame based sauce or the famed sushi rolls. The Japanese style crab fried rice is yet another must-try dish at Nihonbashi.
Flamingo House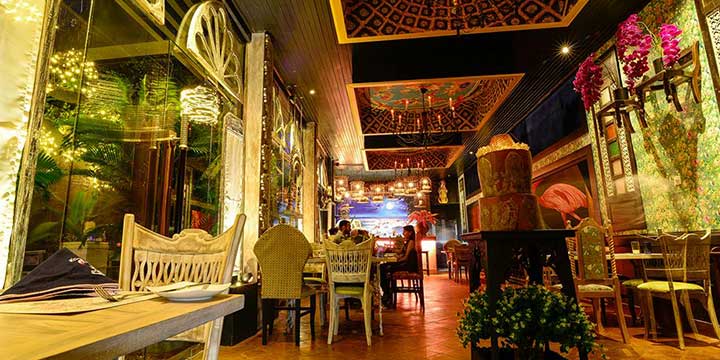 'Two parts chaotic and one-part rich history', the flashy Flamingo House is a world of food and fantasy. Quirky flamingo themed décor, stories of Sir Alfred Clark, tropical plants, cute pink chairs and soft lighting that's low enough without being too dim, the interiors of this restaurant are eccentric and bizarre. Flamingo House serves up an enticing array of Eurasian cuisine ranging from stuffed calamari to classic Swiss cheese fondue. Don't miss the piping hot seafood kottu, Galle Face isso wadei and of course, the Irish Whiskey Blue Cheeseburger. Wash it all down with a glass of tropical cocktail and top it all off with some fresh strawberries and cream.
Upali's by Nawaloka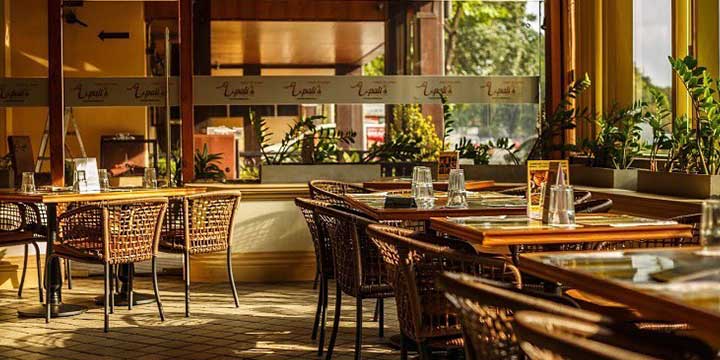 Upali's by Nawaloka is nestled in the heart of Colombo, this restaurant serves all things local with all its authentic glory. There's an extensive choice for diners looking for an authentic Sri Lankan meal. Known for its juicy Mutton Varuwal, delicious Jaffna Crab Curry and mouthwatering Game Batu Moju, Upali's by Nawaloka is the place to be for a feast to remember. Select from a range of vegetables, sambols and condiments to go with your plate of warm fluffy rice. These curries arrive in earthenware pots and are served with coconut shell spoons, giving you a truly local experience.
For beautiful pictures of Sri Lanka, check out our Instagram.
How to make this experience a part of your itinerary?
Our vision for our blog is to build an invaluable resource for independent inquisitive travelers wanting to travel to Sri Lanka in a way that goes beyond the conventional and takes people further and deeper both physically and emotionally. It's about having a fuller, richer, more meaningful trip. We also want to be a practical resource. Every article is 'actionable', you are able to make it part of your itinerary in some way. For tips on how to make any of these tips part of your journey send us an enquiry