Colombo Courtyard is an urban boutique hotel set in the heart of the capital. The design is contemporary, whilst also taking in the environmental impact into account – recycled materials such as old bricks, lampshades made from old bicycle parts and a giant creeper of recycled material runs through the three floors. The use of artwork by talented local artists, the photos displayed around the property, and the use of inside and outside spaces, make the hotel distinctly Sri Lankan.
The hotel has 32 rooms, each unique, with different colored walls, which enhances the arty, boutique style of the hotel. While the rooms are also committed to its ethos of sustainability, they have seamlessly blended modern living in-keeping with 21st century needs.
Rooms
Deluxe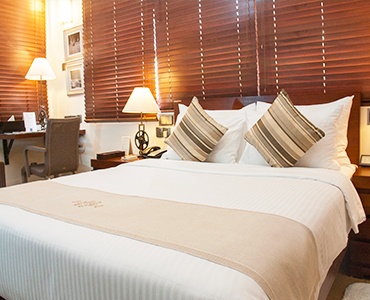 The Deluxe rooms are the epitome of elegance and chic city-living. Featuring a queen-sized bed, guests can choose from three types of pillow to sleep on: micro gel, feather and foam. The ensuite bathrooms have an indoor rain shower.
Room Facilities

Air-conditioning

Bathtub

Cable TV

Coffee / Tea

Fans

WiFi
Superior Deluxe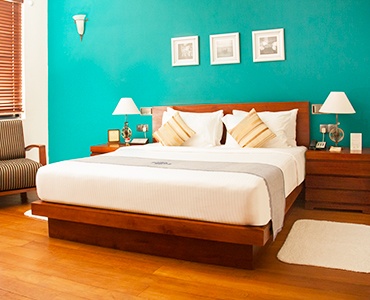 The Superior Deluxe rooms are bigger and ideal for business or leisure. These rooms come with a unique feature wall, and some have relaxing courtyards. Comfort and modernism go hand-in-hand amongst sumptuous, elegant furniture and amenities.
Room Facilities

Air-conditioning

Bathtub

Cable TV

Coffee / Tea

Fans

WiFi
Suites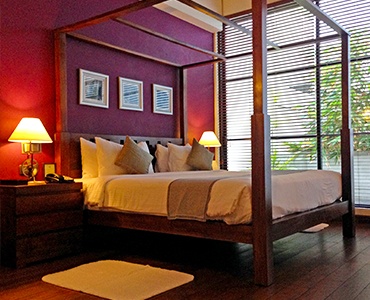 Treat yourself to an opulent getaway with a stay in their spacious suites. Complete with expansive interiors, modern comforts, king-sized four-poster beds, vibrant designs and utmost privacy, each suite is situated on its own floor. The ground floor suites come with their own private courtyards.
Room Facilities

Air-conditioning

Bathtub

Coffee / Tea

Fans

WiFi
Honeymoon Suite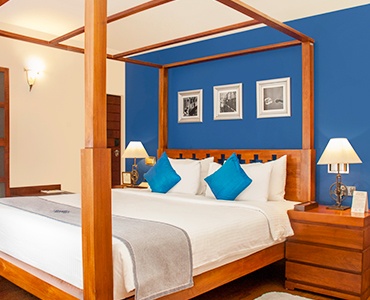 The Honeymoon Suite is expansive and is complemented by gentle décor. Complete with a king-sized four-poster bed, the ensuite bathroom features bath and rain shower. The suite also comes with a personal butler who will prepare a private dinner by the poolside.
Room Facilities

Air-conditioning

Bathtub

Cable TV

Coffee / Tea

Fans

WiFi
Duplex Suite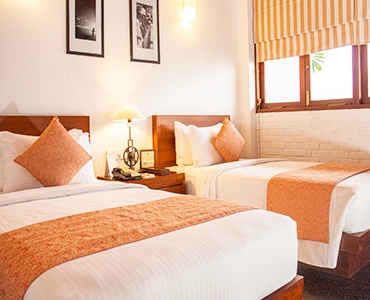 The Duplex Suite is Colombo Courtyard's most impressive accommodation featuring a two-story room. The ground floor features a living room and private courtyard whilst the upper floor houses a comfortable bedroom. This can an also be converted into a Honeymoon Suite.
Room Facilities

Air-conditioning

Bathtub

Fans

TV with cable

WiFi
Hotel Facilities

Pool

Restaurant
Cuisine
There is much to keep you entertained from the fine dining experience at Scarlet Room restaurant on the first floor, to the Loft, an atmospheric industrial-style bar on the second floor. Cloud Café, their roof terrace bar is a great place to relax and admire the cityscape with a freshly made cocktail in hand. Trained in France and Italy, the head chef has a varied repertoire which includes Mediterranean, Thai and Sri Lanka dishes.
Colombo Court Hotel & Spa is Asia's first carbon-neutral hotel. They also have a range of other eco-friendly initiatives, including a no-plastic-bottle policy, encouraging guests to conserve energy and water and training staff on good environmental practices.
Just for the kids
At the moment the hotel is more suitable for families with older children as there is a plunge pool but not a large swimming pool. There are plans to build one in the near future.
Enquire Now
Get in touch with one of our knowledgeable travel experts to plan your Sri Lanka journey.