As an island surrounded by turquoise blue waters, Sri Lanka is the perfect place to indulge in an overnight stay in the middle of the sea on a boat. Being surrounded by the abundant marine life that the island is known for would make it the most incredible accommodation experience available by far. Sail Lanka Charter's latest addition, Jade 52 offers this, and so much more.
Launched in December 2015, this is the first catamaran designed for one to seven day cruises around the island. This 52ft sailboat has four cabins, each with a private bathroom, a fully-equipped kitchen and a double deck. It can accommodate eight guests and the Captain for a period of 10 days.
The two day cruise sets sail from Mirissa fisheries harbour, heading straight out to sea before anchoring near Snake Island for a swim or even paddle-boarding, which is followed by dinner. The next morning head out in search of whales and dolphins, and enjoy the morning sun with a cup of coffee and breakfast afterwards. After another swim in the sea, have lunch and sail back to the harbour.
Rooms
Rooms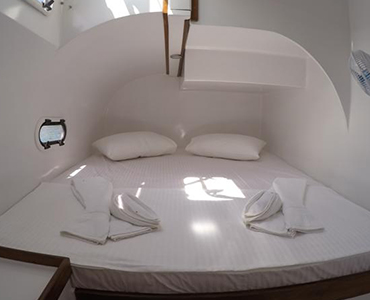 The four cabins are located on either side of the catamaran facing each other. The cabins are furnished with a cupboard and comfortable bed that can accommodate two people. They also each have a private bathroom with a washbasin, shower and flushable toilet facilities.
Room Facilities

Flushable Toilets
Hotel Facilities

Kitchen
Cuisine
The skilful chef on board will cook up some delicious dishes during your stay. Fresh seafood is a main highlight in their meals.
Just for the kids
Overnight cruises are not recommended for children below 7 years as an extra bed cannot be accommodated in the cabins.
Enquire Now
Get in touch with one of our knowledgeable travel experts to plan your Sri Lanka journey.