Casa Heliconia is an eclectic two-bedroom villa nestled in a tranquil rural village close to Bandaranaike International Airport, managed by Manor House Concepts (who also manage The Kandy House, The Last house and Coco Tangalla). Surrounded by paddy fields and patches of jungle, the villa is the perfect indulgence for those looking to escape the hustle and bustle of city life – the only people in site are the occasional farmer and those visiting the nearby temple. Two uniquely-designed rooms are housed in separate pavilions, one inspired by Cambodian temples (Temple Angkor), the other more chic and contemporary in style (Pagoda Gold). Both have complementary Wi-Fi. The property is comprised of two other pavilions which house the swimming pool and living area, the latter of which is furnished with a home-theater system, laptop and drum kit.
Rooms
Bedrooms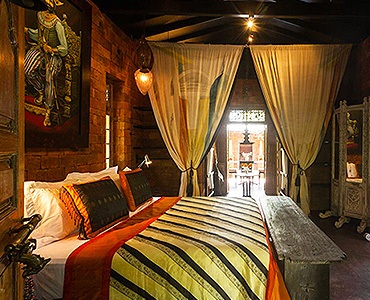 Both rooms are adorned with antiques and striking design touches such as copper basins and showerheads, and are equipped with king-sized beds, A/C and h/w. Temple Angkor has an outdoor washroom, firewood cooking stove and a small dine-in veranda, whilst Pagoda Gold has an outdoor shower and terrace area.
Room Facilities

Air-conditioning

Fans

Open-air bathroom

WiFi
Villa Facilities

Bird Watching
Cuisine
Casa Heliconia specialises in Sri Lankan cuisine, preparing not only a delicious rice and curry but also a range of 'beyond curry' dishes which are a modern take on traditional Sri Lankan cuisine. Breakfast, mouth-watering three-course affair, can be either Sri Lankan or Western depending on your preference.
Just for the kids
Suitable for children aged 12 and over.
Enquire Now
Get in touch with one of our knowledgeable travel experts to plan your Sri Lanka journey.