With a staff of five to cater to your every need, the fantasy of this 2.5 acre island can be enjoyed all to yourself with no disruptions or disturbances, completely sealed from the outside world. Only accessible by wading through the slow-moving surf, the statuesque neo-Palladian mansion of Taprobane is surrounded by beautiful tropical gardens which enjoy 360 degree ocean views. Designed and built in the 1920s by the eccentric Count de Mauny-Talvanade, the house has played host to dignitaries, aristocracy, luminaries, romantics and fantasists over the years as well as the famous writers Arthur C. Clarke and Paul Bowles. The octagonal shape of the main house allows for the appreciation of the panorama of every angle from the wraparound verandas. Rooms revolve outwards from a grand central space characterized by a 30m high-domed roof, and its open plan design allows for the cool flow of air. The main house features comfortable living areas and three suites, while two more are located on a lower level of the house. Taprobane sleeps 10 people comfortably in its five en-suite bedrooms: 4 doubles and 1 twin, which can be rented by the room or in its entirety. If you're interested, there's also a daily seaplane service from Koggala to Hatton for which we can make arrangements and book seats. Prices are available on request, and conditions apply.
Rooms
Suites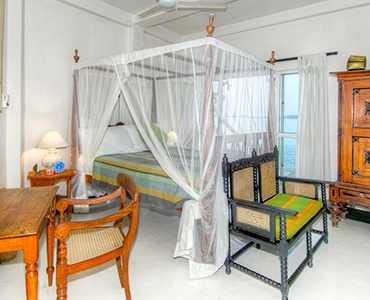 Each suite is furnished with beautiful antique chests and writing desks topped with photographs and table lamps while bookshelves provide plenty of interesting reading material. Rooms are fan-cooled and feature comfortable beds dressed in white cotton sheets. Vibrant fabric cushions and throws add a splash of color.
Room Facilities

Balcony

Fans
Villa Facilities

Beach Access

Pool

Restaurant

Water Sports
Cuisine
Fabulous cuisine is at the heart of the island, and your own private chef will see to it that you indulge in the freshest fish and seafood available from the markets of Weligama each day. The cuisine's a fusion of Eastern and Western. Guests can select from a basic menu each evening or discuss meal choices with the chef at the beginning of the week, so as to give him a chance to do the shopping and buy only the freshest local produce available each day. While a couple of well-known wines are stocked, it's best to either pre-order your choice from the management or bring your own with you. Fresh fruit juices, soft drinks and mineral water are always available, at any time of the day.
Just for the kids
The crossing to the island is by foot and can be rough, so it's not really suitable for children under 10. For older children there are lots of activities to enjoy such as body-boarding, learning to surf on Weligama beach, taking a boat from Unawatuna and snorkeling on the reefs off Rumassala, and visiting the rainforest with a naturalist, learning about the plants, animals and the importance of this ecosystem.
Enquire Now
Get in touch with one of our knowledgeable travel experts to plan your Sri Lanka journey.