The Beach House is currently offering special flexible terms and conditions to help you book Sri Lanka with confidence despite the uncertainty surrounding global travel at the moment. Read our blog or contact one of our expert trip planners to find out how you can take advantage of this special policy. The Beach House is barefoot luxury at its very best, having been fully upgraded to meet the demands of the most discerning modern beachcomber. Frequently described as one of the best beach villas in the world, this is a modest understated five-bedroom bungalow once owned by the American artist Douglas Johnson who lovingly restored this colonial property into an idyllic beach retreat with the help of his friend Geoffrey Bawa, Sri Lanka's most eminent architect. The bungalow has been painted in shades of blue and white highlighted in some places by ochre to make it stylishly blend in with its beach surrounds. The white walls of the colonnaded veranda are offset by dark wooden antique furniture and planters chairs. Johnson's own paintings, collages and portraits provide for his legacy alongside mosaic mirrors, colonial artefacts and antiques that adorn sitting room. If you're interested, there's also a daily seaplane service from Koggala to Hatton for which we can make arrangements and book seats. Prices are available on request, and conditions apply.
Rooms
Bedrooms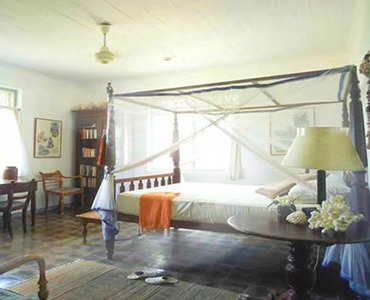 The villa has five bedrooms: four doubles and one twin. Each room is uniquely designed and feature beds draped with soft mosquito netting and complementing antique furniture in the form of spacious wardrobes, quaint bedside tables and writing desks. Though none of the rooms are A/C, ceiling fans and the sea breeze keep you amply cool at night.
Room Facilities

Fans

Open-air bathroom
Villa Facilities

Beach Access

Child Friendly

Kitchen

Pool

Spa
Cuisine
The cuisine at the Beach House is regularly described as delicious. The talented chef prepares set menus daily, taking into account guests' preferences and dietary needs. Since Tangalle is primarily a fishing town, fresh seafood and fish are readily on offer. Traditional Sri Lankan curries also feature on the menus alongside more traditional 'Western Inspiration' dishes. Homemade fruity desserts and tea-time delicacies in the garden are also delights to revel in! While wine must be ordered in advance through the Sun House management, spirits and soft drinks are always in stock, and fresh fruit juices and cocktails are readily concocted by your friendly in-house staff. You pay staff directly for ingredients on a daily basis and they'll do all the shopping and of course cooking for you, although there's no reason why you couldn't prepare simple meals occasionally yourself, if you prefer. While the dining terrace is the most common place to eat at any time of the day, candlelit tables can be set up wherever you wish – in the pool pavilion or even on the beach under a firefly-illuminated night sky.
Just for the kids
A family friendly villa with a pool. Children can have fun swimming and body-boarding on the beach and there are many day trips to take, including a visit to the Turtle Conservation Center in Rekawa.
Enquire Now
Get in touch with one of our knowledgeable travel experts to plan your Sri Lanka journey.