Ella is one of the best-loved parts of Sri Lanka's central hills – and it is easy to see why. One of the final stops on the British-built railway line that has run through the tea country since the 19th century, Ella is a small town with a chilled-out atmosphere surrounded by a patchwork of plantations and lush green forest. On the outer edge of town is the beginning of the Ella Gap, a deep gorge that runs from the hills all the way out to the south-east coast and provides sensational views. A beautiful landscape with panoramic vistas at every turn is what makes this town one of the best walking destinations in Sri Lanka. Find your favorite routes with this guide to the best hikes in Ella.
Little Adam's Peak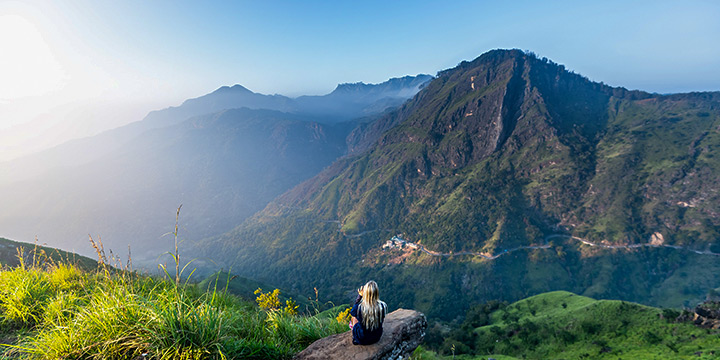 The most iconic hike around Ella is the ascent up Little Adam's Peak. This trek starts out pretty easy with a winding path through the tea estates before ending with a short but fairly steep flight of steps to the top of the peak. At the summit, there is a small Buddhist shrine and sensational views over the Ella Gap. Suitable for most ages and skill levels.
Length: 5km
Duration: 1 – 1.5 hours
Best Time to Climb: Although many recommend sunrise at Ella Rock, we think Little Adam's Peak is an easier and equally rewarded spot to see the dawn. It is equally beautiful at sunset.
We recommend following the Little Adam's Peak climb with a visit to the iconic Nine Arch Bridge, an incredible viaduct that is one of the best examples of colonial architecture in Sri Lanka.
Amba Estate to Ella Rock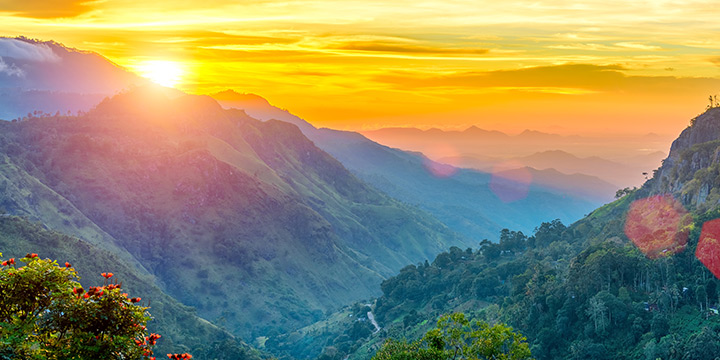 There are some beautiful walks around Amba Estate which is perched high above Ella town. For those staying at Amba Estate, rise at dawn and head out on an independent trek to Eagle Rock to watch a spectacular sunrise. On a clear day you can see 50km down to the south coast! You can also go caving and discover a hidden waterfall: this trek is just 30 minutes each way but brings you close to a huge variety of wildlife.
Arguably the best trek from Amba Estate is unquestionably the hiking route to Ella Rock, a moderately challenging adventure through tea estates, grassy plains, and patches of forest overflowing with flowers and other wildlife. It will be manageable for most, but there are several steep climbs and the path is often uneven underfoot. However, the insane views from the top of Ella Rock (which sits 1,000m above Ella town) make it well worth the effort. Sunrise at Ella Rock is sensational, but be prepared to hike for a couple of hours in the dark.
You can also hike to Ella Rock from Ella town. This will take an additional hour due to the extra elevation.
Length: 10km
Duration: Up to 5 hours
Best Time to Climb: Early morning is the coolest time to climb. We recommend starting by 8am.
Makulella to Ella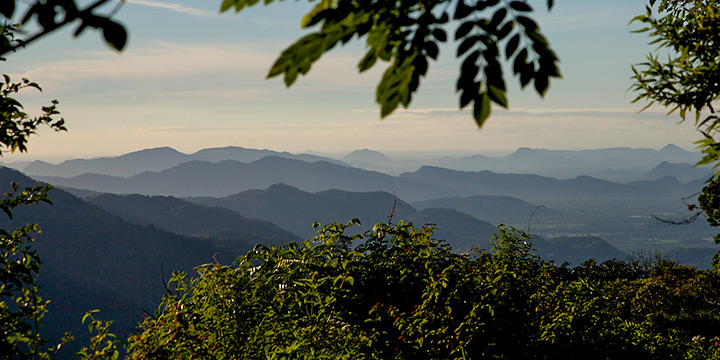 Another way to experience Ella Rock is to hike stage 15 of The Pekoe Trail, an astonishing route which covers the entirety of Sri Lanka's central hill country. This section of the trail is a 9km trek from a Buddhist temple in Makulella to Ella town itself, passing by the gushing Ravana Falls which are steeped in ancient myth and legend and then following a quiet path through eucalyptus forest up to Ella Rock. After pausing to take in the majestic vistas atop the rock (which acts as a convenient halfway stop), descend down towards the town enjoying mesmerizing views all the way.
Length: 9km
Duration: 3 hours
Best Time to Climb: Set out as early as possible to avoid making the ascent up Ella Rock in the heat of the day. Try to aim for a 9am start at the latest.
While you are staying in Ella, consider travelling slightly further afield to explore some of the other incredible hiking trails in Sri Lanka. There are routes suitable for all skill levels and each one promises beautiful views. One of our best walks in Sri Lanka is Lipton's Seat, the favorite viewpoint of Scottish tea planter Sir Thomas Lipton who created the estates in this area in the late 19th century.
To reduce daily travel without losing out on an in-depth insight into Sri Lanka's tea country, consider a slow-paced tour of the island's hills with a stay in each key location. Check out our collection of hotels in Hatton and beyond which include luxury colonial bungalows that provide a once-in-a-lifetime experience.
How to make this experience a part of your itinerary?
Our vision for our blog is to build an invaluable resource for independent inquisitive travelers wanting to travel to Sri Lanka in a way that goes beyond the conventional and takes people further and deeper both physically and emotionally. It's about having a fuller, richer, more meaningful trip. We also want to be a practical resource. Every article is 'actionable', you are able to make it part of your itinerary in some way. For tips on how to make any of these tips part of your journey send us an enquiry