How to experience Sri Lanka's tea heritage

Back
Now a word that is synonymous with Sri Lanka, tea did not appear in the island until the 19th century. It was the British who first brought the tea bush to the country, adding a specimen taken from China as part of the newly-constructed Royal Botanical Gardens in Kandy. From here, the rest is history. A succession of entrepreneurs, most notably Scotsmen James Taylor and Sir Thomas Lipton, travelled to Sri Lanka throughout the 1800s to transform this coveted crop into a commercial business that remains one of Sri Lanka's main exports to date.
Given that tea dominates the entirety of the island's central hill country, tourists can hardly fail to notice this part of Sri Lanka's heritage during a tour. However, as nice as it is to simply gaze out at the spectacular vistas of rolling lush estates, there are several special ways to truly experience Sri Lanka's tea heritage. Discover our top tea experiences in Sri Lanka, from a historic train journey to authentic accommodation.
Try a Tea Tour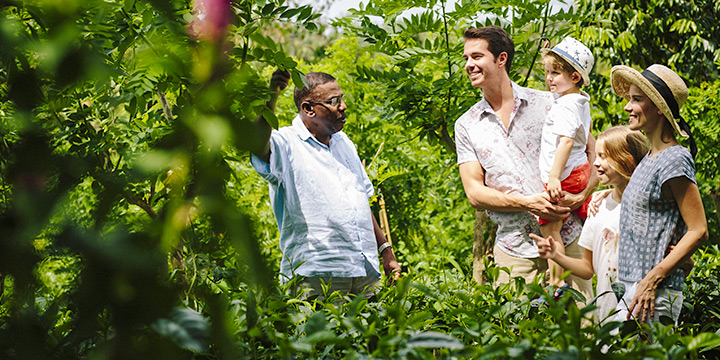 Get up close and personal with these beloved bushes on a tea tour. Rise early and head out into the fields with the tea pluckers and see how they assess which leaves are ready for picking, and the techniques used to collect the ripe crop. From here, head to the processing area to watch as the leaves are sorted, dried, and ground. End the experience with a tailored tea tasting to discover the flavour of Ceylon tea and find your favorite blends. An expert will guide you all the way. Some of our top tea tours are at Camellia Hills in Hatton at Amba Estate near Ella.
Trek the Tea Estates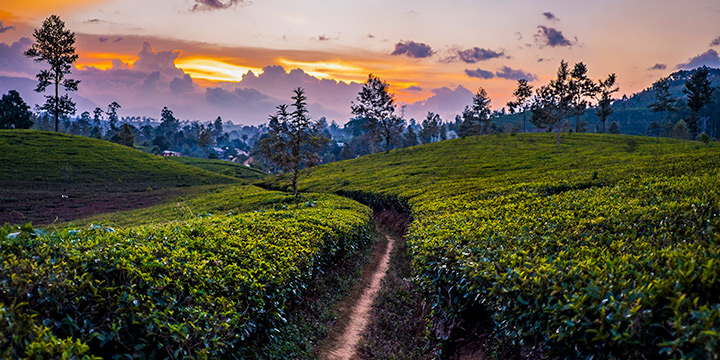 Feeling more active and adventurous? Head further afield (pun intended) and climb Sri Lanka's mountains for astonishing plantation panoramas. Seeing the tapestry of terraced rows of tea from above is a sight that won't be soon forgotten. The hike up Little Adam's Peak is accessible to most but nonetheless delivers exceptional views. Further away from the tourist trail is the Knuckles Mountain Range, a spectacular section of the Kandyan foothills which is breath-taking at every turn.
Stay in a Planter's Bungalow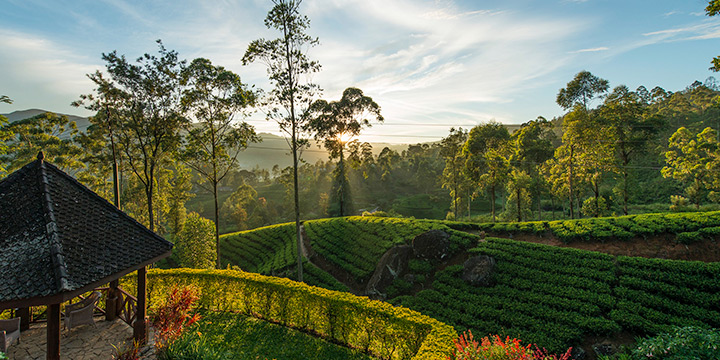 Sri Lanka's hill country is, unsurprisingly, dotted with the bungalows where the tea planters used to live. These bungalows are set at the top of the estates, offering incredible views of the surrounding landscape. They are also characterized by broad wrap-around verandas where you can cool off in the shade, and many have been lovingly restored to their colonial era glory.
For indulgence and authenticity, we recommend Ceylon Tea Trails, a collection of five period bungalows scattered around Dickoya close to majestic Castlereagh Lake. More modern versions which have been fully renovated or newly built in the old style include Goatfell which sits at one of the highest points in the hills and secluded Nine Skies. Ashburnham Estate is our top pick for peace, privacy, and unique activities, while the ultimate in luxury can be found at remote Thotalagala.
Take the Train
Last but certainly not least, to get a taste of the history of Sri Lanka's tea industry, travelers must take the train from Kandy to Demodara. This railway is the original line constructed by the British during their period of colonial rule, and tourists can even travel this route on a vintage steam train. As well as following in the footsteps of the planters who created these tea estates, the rail ride through the hills gives you a sense of the scale of Sri Lanka's tea country and the astonishing impact that tea production had on the island's central region. Sit back and relax and watch a landscape of tea fields, woodland, waterfalls, and deep gorges opening out beneath you, as local children wave and run alongside the train.
Speak to one of our expert trip designers to start planning your customized Sri Lanka tour and ask how you can incorporate these tea experiences into your itinerary.
How to make this experience a part of your itinerary?
Our vision for our blog is to build an invaluable resource for independent inquisitive travelers wanting to travel to Sri Lanka in a way that goes beyond the conventional and takes people further and deeper both physically and emotionally. It's about having a fuller, richer, more meaningful trip. We also want to be a practical resource. Every article is 'actionable', you are able to make it part of your itinerary in some way. For tips on how to make any of these tips part of your journey send us an enquiry