"Tea Leaves and Sea Breezes", George Cooper's Sri Lanka

Back
George first came to Sri Lanka in 1999 to find out more about where his Great-Grandfather and Grandfather had lived. As rubber planters in Ceylon from 1860, they had owned two estates not far from Horana.
After a stay at the Sun House in Galle, George was immediately captivated by the island and the Sri Lankan people and, on the fourth day of his visit, agreed to buy a small tea plantation near Koggala. Having previously worked as an interior designer for 30 years with clients from all over the world, George immediately put his skills to good use to create what is now the award-winning boutique hotel, Kahanda Kanda.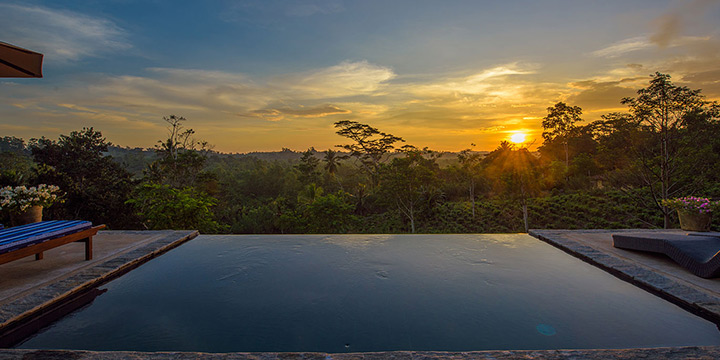 In his free time, George likes to go sailing in Weligama Bay in his Hobie catamaran, go on road trips around Sri Lanka, or travel around Asia to buy exciting items to sell in his exclusive shop in the Fort, the KK Collection.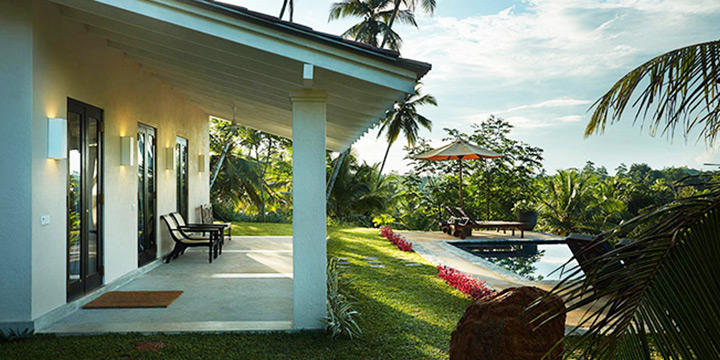 An Interview with George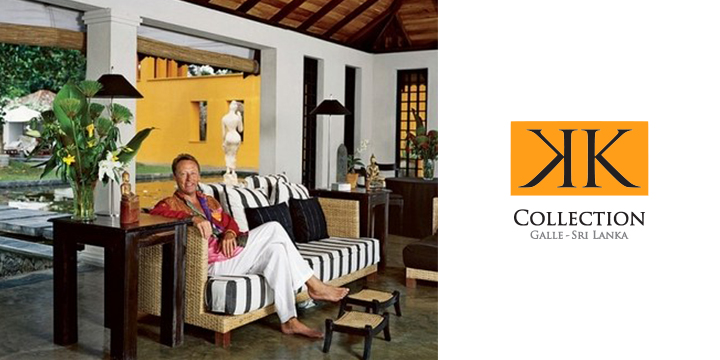 What makes Sri Lanka unique?
The fact that it is stuck in a time warp giving it so much charm, character and innocence.
Three absolute Sri Lankan musts?
Drink a thambili (king coconut) at a roadside kade (stall), trek through the Bogalantalawa valley and experience the Hindu Mayurapathy Chariot Festival in Colombo in July; watch the men in a state of devotional trance dangle from hooks!
By the sea or in the hills?
Definitely in the hills; I cannot get enough of the mountain air!
Favourite talk?
A chat with your local three wheeler driver. You can learn a lot!
Favourite shop?
Antiques in Colombo and the fabric shops of Dean's Place, Maradana. They are filled to the brim with fabulous linens and cottons.
Favourite drive?
I love the drive through the rolling green pastures of Ambewela; it is such a rare sight in Sri Lanka.
Top thrill?
Hot air ballooning over The Cultural Triangle. Fabulous!
Top chill spot?
Anywhere high in the hills of the Maskeliya Valley.
Favourite food?
Pineapple curry cooked by my Muslim chef. Delicious!
Best place for rice and curry?
I love Galapita for its delicious organic vegetable curries.
Favourite room?
The incredible Palmer Suite at Castlereagh Bungalow (Tea Trails). Elegant relaxation with wonderful views.
Favourite bathroom?
The Blue Room at the Dutch House (Galle) for watching the monkeys swing from tree to tree while you are in the bath.
Best festival?
Galle Literary Festival; it's a great few days.
Is there a soundtrack to your Sri Lanka journey?
Cafe Del Mar; 25th Anniversary edition.
You're going on a Sri Lankan journey; what do you never leave home without?
My duck down pillow, my sarong for all occasions, my iPod to drown out the drone of traffic, a water bottle, a packet of home-grown cashew nuts and toilet paper as Sri Lankan loos never have any.
George's perfect itinerary!
Relish the spectacular serenity and salubrious climate of the Hill Country followed by a few days exploring the beautiful beaches and fabulous fort of Galle. Throughout this insightful journey from Kandy through Hatton to Galle, tea will remain as constant a reminder of the colonialists as the magnificent UNESCO heritage fort of Galle. Hills and valleys carpeted with verdant tea invite exploration whilst the fresh climate is ideal for walking and taking in the mountain vistas on serene strolls and tranquil treks. Appreciate the magnificent scenery from a different outlook as you enjoy an authentic train journey and embark on a helicopter charter down to the south coast where you will stay in a wonderfully peaceful property just minutes from the ocean and close to the attractions of Galle. Relax in these beautiful surrounds awhile before returning to Colombo for a final night of pampering before flying back home.
Trip Overview - 9 nights / 10 days
2 nights in the Kandy House.
Scenic train journey to Hatton.
3 nights at Tea Trails exploring the Bogalantalawa Valley's tea plantations.
Helicopter charter to the south coast
3 nights at Kahanda Kanda relaxing, enjoying the beaches and visiting Galle Fort.
1 night at the Galle Face Hotel in Colombo, shopping and dining.
Best time to travel:Anytime!
How to make this experience a part of your itinerary?
Our vision for our blog is to build an invaluable resource for independent inquisitive travelers wanting to travel to Sri Lanka in a way that goes beyond the conventional and takes people further and deeper both physically and emotionally. It's about having a fuller, richer, more meaningful trip. We also want to be a practical resource. Every article is 'actionable', you are able to make it part of your itinerary in some way. For tips on how to make any of these tips part of your journey send us an enquiry