Are you someone who finds relaxation in being active?
Sri Lanka is an ideal holiday destination for those who love to hike and bike their way to happiness. The island's varied landscapes offer a wealth of stunning scenery when exploring on two wheels, from dramatic highlands carpeted by tea estates to quintessential lowland paddy fields dotted with wildlife. You can also cycle around several of Sri Lanka's UNESCO-recognized cultural sites, either independently or with an expert guide.
All equipment is provided when you are in Sri Lanka, including bikes, water bottles and safety helmets. You can also tailor the experiences to your own skill level by adjusting the length or course of the route. This means that it could not be easier to add a selection of cycling experiences to your customized Sri Lanka tour.
Whether you are a keen cyclist or just looking for a unique view of the island, consider these top 6 cycling experiences in Sri Lanka for your vacation itinerary.
Cultural Triangle
Two of the most rewarding cycling experiences in Sri Lanka are found in the island's Cultural Triangle. The medieval kingdom of Polonnaruwa and ancient citadel Anuradhapura can both be explored by bike, with your expert guide leading the way. This is the most convenient and comfortable way to explore these historic complexes, and also gives you an insight into their sheer size.
UNESCO Anuradhapura Citadel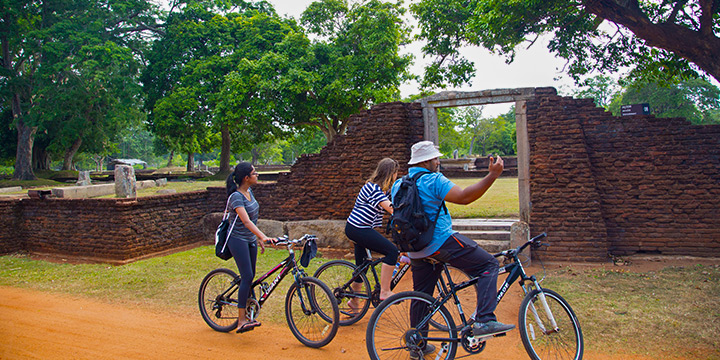 Now a UNESCO World Heritage Site, Anuradhapura Citadel was Sri Lanka's first civilization. The 2,000-year-old ruins include relics of royal residencies and evidence of exceptional engineering, and are crowned by a sacred Bo tree that is just as ancient as the city itself. Your bike ride takes you on a smooth journey around the complex, ending with a picnic overlooking one of the vast water tanks.
The Kingdom of Polonnaruwa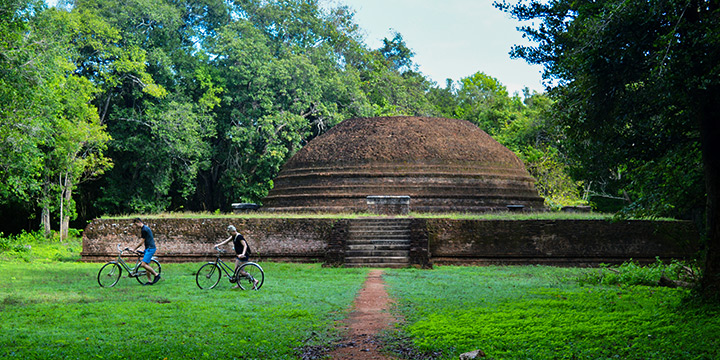 At the opposite point of the Cultural Triangle lies the Kingdom of Polonnaruwa that was the country's main city between the 11th and 13th centuries. Better preserved than its 1,000-year-older counterpart, Polonnaruwa still retains much of its astonishingly intricate architecture including awe-inspiring statues of Lord Buddha. The paths around the complex are flat and easy to navigate by bike.
Inland Galle
Another beautiful cycling destination in Sri Lanka is inland Galle. Just a few miles in from the coastline, travelers will encounter emerald green rice paddies, villages with vibrant markets and local temples, and rubber and coconut plantations. Colorful birds flit between the trees and wheel in the air above. Blissful!
Bikes, Boats & Bites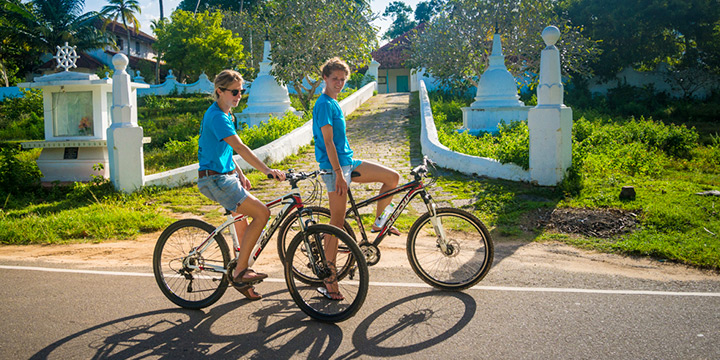 Bikes, Boats & Bikes begins with a serene boat ride down a river. Initially you will be surrounded by nothing but wildlife such as swift grey fish eagles and dominating monitor lizards, before the river brings you into contact with local communities where children race alongside the boat on the bank. Upon disembarking, you will pick up your bikes and enjoy a 9km ride through this rural landscape to a local wattle-and-daub house. Here you can enjoy local refreshments such as hoppas and Ayurveda-influenced herbal tea during a traditional cooking class before cycling back to your collection point.
Scenic bicycle trails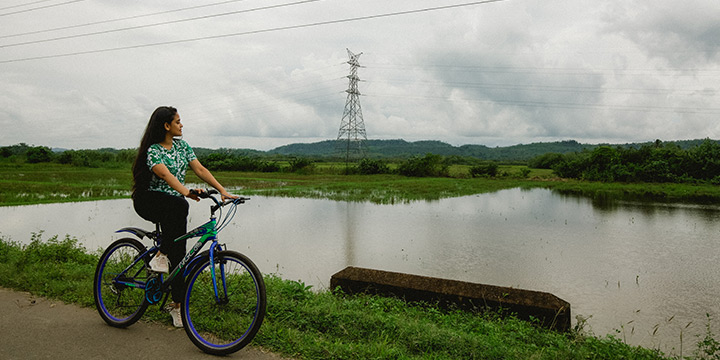 For a more independent exploration of Galle's breath-taking countryside, we recommend the scenic bicycle trails in this area. With a choice of routes, distances, and difficulties, these trails are easy to follow and showcase the very best scenery in this area.
Hill Country
The island's central hills are a key cycling destination in Sri Lanka. Around Hatton you'll find tranquil tea estate trails which are fairly gentle and include blissful downhills. Higher up in the highlands there are a variety of undulating paths to stunning viewpoints including challenging ascents for mountain bikers. Below we've included two of our favorite bike rides in Sri Lanka's hill country.
Ceylon Tea Trails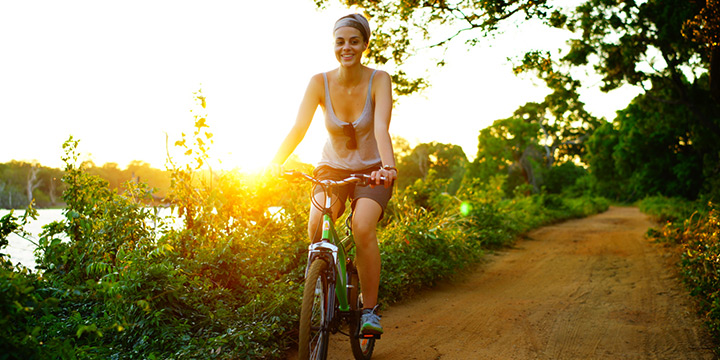 The five Ceylon Tea Trails bungalows are some of the most exquisite luxury hotels in Sri Lanka. Dotted around the hills of Dickoya close to Castlereagh Lake, these colonial structures were once the home of British tea planters in the 19th century and have been carefully restored to maintain their character.
Hidden in blissfully private settings, it is amazingly peaceful to explore the area around these bungalows by bike. Whizz downhill through glittering tea estates to the lake edge, then cycle or get a vehicle transfer back to your bungalow.
Victoria Golf & Country Resort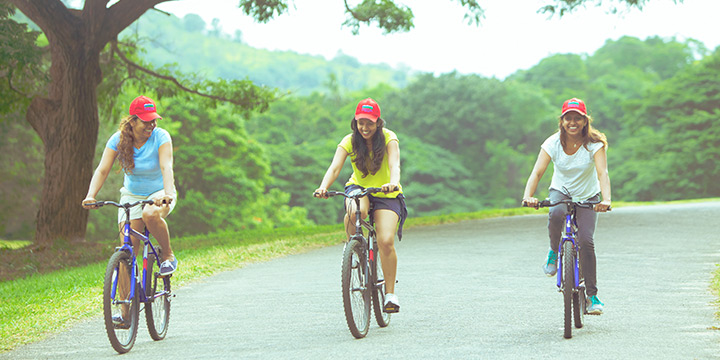 Just above Kandy, a city described as 'The Gateway to the Hill Country', you will find Victoria Golf & Country Resort. This is an idyllic place in the foothills where you can take part in a variety of outdoor activities in utterly stunning surroundings, backed by the dramatic Knuckles Mountain Range. Bike trails are varied, and you also have the option of doing horseback riding, golf, tennis, and hiking.
How to make this experience a part of your itinerary?
Our vision for our blog is to build an invaluable resource for independent inquisitive travelers wanting to travel to Sri Lanka in a way that goes beyond the conventional and takes people further and deeper both physically and emotionally. It's about having a fuller, richer, more meaningful trip. We also want to be a practical resource. Every article is 'actionable', you are able to make it part of your itinerary in some way. For tips on how to make any of these tips part of your journey send us an enquiry