Located in the heart of Galle Fort, Amangalla's history dates back to the Dutch period when it was originally built as a quarters for the Dutch commanders. Decades later during the British period, it was transformed into a hotel by the name of 'New Oriental Hotel' and served guests for 140 years before coming under the Aman brand.
The hotel cleverly blends in old-world charm with contemporary luxury from the rooms to the swimming pool and 'the baths' – a stunning spa complete with a luxury ayurveda center and marble-walled candlelit hydrotherapy room.
Amangalla has 29 rooms divided into four room types, all of which offer the very best in comfort and style.
Rooms
Bedrooms (10)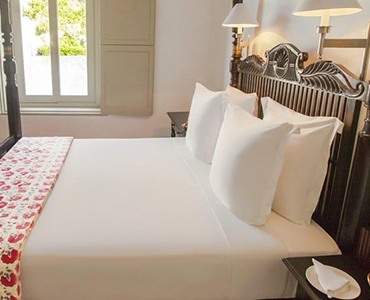 All rooms are furnished with a twin or king-sized four-poster beds, writing desks, rattan planter's chairs and fascinating prints of Ceylon. The ensuite bathroom feature free-standing bathtubs, twin vanities beneath large wooden framed mirrors, a shower area and a selection of scented toiletries.
Room Facilities

Air-conditioning

Bathtub

Coffee / Tea

Fans

WiFi
Chambers (10)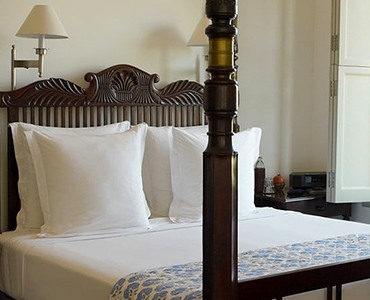 The six chambers are located in the Church Street Wing – above the Zaal and opposite the ramparts. With 699sqft of space, the rooms include a large bedroom with a separate sitting area. The four Garden Wing Chambers offer beautiful views of the garden which can be enjoyed from the comforts of the bathtub.
Room Facilities

Air-conditioning

Bathtub

Coffee / Tea

Fans

WiFi
Suites (8)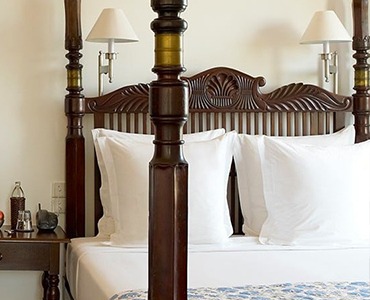 The six suites are located in the Church Street Wing, with another situated in the Middle Street Wing. Overlooking either the fort ramparts, Dutch Church, Galle Harbor or gardens, the suites are spacious and feature original polished teak floorboards and a separate cozy lounge area.
Room Facilities

Air-conditioning

Bathtub

Coffee / Tea

Fans

WiFi
The Garden House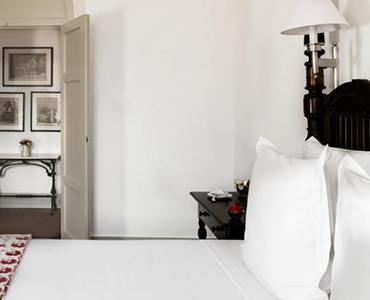 This exclusive two-story retreat featuring antique furniture is hidden in the frangipani scented garden. On the ground floor is a fully-furnished sitting room which leads to the bedroom and a spacious ensuite bathroom. An internal stairway leads to the first floor furnished with a daybed and banquette.
Room Facilities

Air-conditioning

Bathtub

Coffee / Tea

Fans

WiFi
Hotel Facilities

Child Friendly

Laundry Service

Pool

Restaurant

Room Service

Spa

WiFi
Cuisine
The cuisine at Amangalla is renowned for its excellence and comprises a selection of traditional Sri Lankan and European dishes such as freshly baked bagels served with smoked salmon, crispy egg hoppers, Sri Lankan rice and curry, among others. All meals are prepared using fresh produce sourced daily from the local markets in Galle and from organic farms located nearby.
Just for the kids
Though the hotel is not known for being child-friendly, it certainly has services that are catered to families such as free babysitting services and snorkeling with adventure hikes through the rainforest.
Enquire Now
Get in touch with one of our knowledgeable travel experts to plan your Sri Lanka journey.