Anilana Craigbank
Nuwara Eliya

Back
Situated just above Nuwara Eliya town, Anilana Craigbank is a characteristic colonial villa set within magnificent gardens that overlook the famous century-old golf course and rolling hills. Ideal for groups of families and friends who will love its privacy and secluded yet central location, Anilana Craigbank offers its visitors both convenience and tranquility. Designed by a Frenchman, the villa's European style blends perfectly with the property's colonial atmosphere which dates back to a former era. Fireplaces offer extra warmth at night and lend an old-world ambience unique to this part of the country.
Low lighting, soft sofas and plenty of interesting coffee table books in the Drawing Room offer the perfect place to whittle away the early evening hours, while the verandas provide vistas of the scenic distance to pass the day.
The four bedrooms at Anilana Craigbank is individually designed and is rented on an exclusive basis to one party at a time.
Rooms
The East Room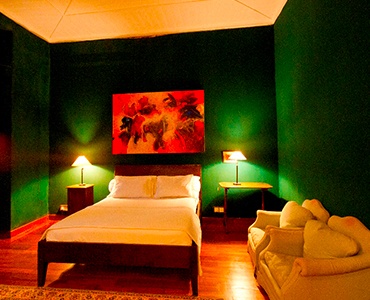 Decked with a king-sized bed and tucked away in a peaceful part of the villa, the East Room is ideal for couples or children. Complete with aged furniture and modern amenities, the room provides views to a quaint, hidden garden. It also has an ensuite bathroom.
Room Facilities

Balcony

Bathtub

Fans

WiFi
The North Room
The North Room is positioned towards the back of the villa and houses a four-poster king-sized bed. Replete with elegant furniture, the room's private and intimate setting is popular amongst couples.
Room Facilities

Balcony

Bathtub

Fans

WiFi
The West Room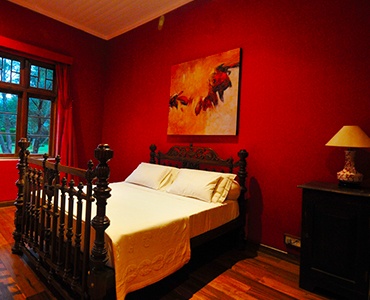 If you are looking for a room with exceptional views, go for the West Room. It offers great vistas of the main garden, and includes an oversized king-sized bed. Complete with a private bathroom and high artistic ceiling, it definitely makes for a unique experience.
Room Facilities

Balcony

Bathtub

Fans

WiFi
The South Room
The Master bedroom of the villa, the South Room has an intimate setting with French windows opening on to a veranda where guests can enjoy meals. The room features a king-sized bed, ensuite bathroom and a fireplace where guests can light up a fire before bed.
Room Facilities

Balcony

Bathtub

Fans

WiFi
Hotel Facilities

Pool

Restaurant

Trekking

TV with cable

WiFi
Cuisine
The kitchen at Anilana Craigbank serves a delicious combination of Sri Lankan and European cuisine prepared using some of the freshest local produce bought daily from the markets in Nuwara Eliya. While the Dining Room is perfect for breakfast and dinner, you can ask the staff to prepare a table in the garden for lunch. Apart from snacks, they also serve the English high tea.
Just for the kids
Anilana Craigbank welcomes kids of all ages. Children have plenty of space around the garden to play around.
Enquire Now
Get in touch with one of our knowledgeable travel experts to plan your Sri Lanka journey.