Leopard Trails - Yala
Yala National Park

Back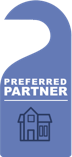 Based in the buffer zone of the Yala National Park, Leopard Trails offers a bespoke tented camping setup inspired by English camping which combines the best of a game drive experience with modern day comforts and amenities.
A typical day with Leopard Trails begins in the afternoon with a fantastic lunch spread of Sri Lankan rice and curry, followed by a short introduction to the camp. Guests can choose to cool off in a hammock or laze in the main lounge with a number of books from the Leopard Trails wildlife library until the evening game, which starts at 3pm.
Designed especially for photographers and comfort, in either a Toyota Land Cruiser or Toyota Hilux, the game drives are led by Game Rangers who have years of experience. Back at the camp, guests can enjoy a private alfresco shower, followed by drinks and appetizers around the camp fire before dinner, which is served in one of many locations available at camp.
Leopard Trails operates on an all-inclusive basis offering tented accommodation, two game drives per day in a customized vehicle accompanied by an experienced guide, snacks and drinks on game drives, all meals at camp, alcoholic and non-alcoholic beverages and all park entry fees. If guests are interested in going on a private game drive accompanied by a naturalist an additional supplement is applicable.
Leopard Trails has six standard tents and two luxury tents at the Yala Camps.
Rooms
Standard Tents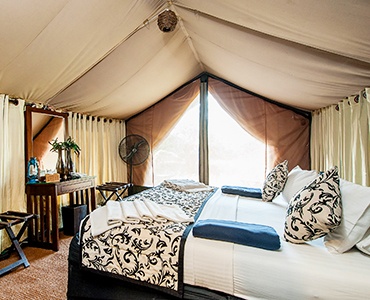 The standard tents have a private veranda and an ensuite bathroom fitted with an alfresco shower, personal flushable commode and bidet spray, wash basin and mirror, along with custom-made Leopard Trails bath products.
Room Facilities

Flushable Toilets
Luxury Tents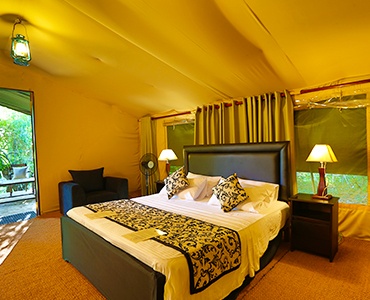 The luxury tents have all same facilities but are larger in size making them ideal for families with the added features of A/C and a pedestal fan. These tents have ensuite bathrooms with twin wash basins and a tempered glass shower cubicle with solar powered hot water.
Room Facilities

Flushable Toilets
Hotel Facilities

Child Friendly

Game Safaris

Licensed Bar
Cuisine
Each meal spread at Leopard Trails is an elaborate one. It's nothing short of fine cuisine prepared with fresh ingredients by an experienced kitchen team. For larger groups, the Leopard Trails BBQ comes highly recommended. They also make a rich Sri Lankan lunch spread. The camp caters to vegetarians and any guests with specific dietary requirements, if informed in advance. When weather permits, meals are organized outside of the lounge tent with live cooking demonstrations, and drinks are served around the campfire. Safari jeeps come equipped with snacks and cool drinks on game drives.
Leopard Trails, Yala works closely with their local community, educating them on and helping them to understand and appreciate the wonders of nature. This property also has a Green Purchasing Policy and advises guests on environmentally-friendly practices to follow whilst at the camp and out on safari.
Just for the kids
Leopard Trails encourages family groups and young children to learn the names of mammals and birds, browse through their library, listen to stories of the jungle around the campfire, and engage in other fun activities.
Enquire Now
Get in touch with one of our knowledgeable travel experts to plan your Sri Lanka journey.