Living Heritage
Bandarawela

Back
Living Heritage is a tranquil hillside retreat that shows its guests Sri Lankan nature and heritage in all its ancient glory. Set on 80 acres of magical 'Deyoge Kaele' (God's Forest) which extends from Sri Lanka's famous mountain Adam's Peak to the sacred Katagarama, the retreat is positioned on an ancient elephant migratory route and, even today, wild elephants can be spotted crossing through for a drink at the nearby Iriwendunpola river. Surrounded by mountains and scenic tea, rubber and pepper plantations, this escapist four-bedroom property is a secluded base where travelers can trek through thick jungle paths, climb nearby mountains like the Ella Gap in Bandarawela, have river baths or go cycling through sleepy farming towns like Monoragala. One of Living Heritage Koslanda's main advantages is the secluded waterfall nearby. They also have an infinity-edge pool which has a glorious view of the stunning surrounding hills.
Rooms
Deluxe Room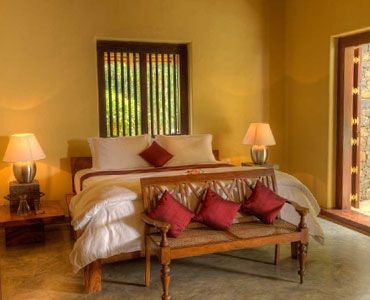 Combining traditional Sri Lankan architecture and contemporary facilities, Living Heritage has three spacious suites and one deluxe room called 'Gatehouse' which has a private garden. The suites have emperor-sized beds and ensuite bathrooms, as well as private courtyards with an outdoor shower and plunge pool.
Room Facilities

Balcony

Coffee / Tea
Hotel Facilities

Child Friendly

Laundry Service

Pool

Restaurant

Spa

Trekking

WiFi
Cuisine
The food at Living Heritage Koslanda is simple and delicious, and they do an excellent rice and curry. Breakfast is generally cooked right in front of you! Guests can choose from either local or Western menus, and the chef is happy to cook up a special meal for children if briefed in advance.
Just for the kids
Living Heritage Koslanda is very child friendly and kids will love the open spaces and trails to the waterfall.
Enquire Now
Get in touch with one of our knowledgeable travel experts to plan your Sri Lanka journey.