Rosyth's Estate House near the elephant orphanage-famed town of Kegalle will give you a pretty good idea of life as a planter. Dating back to 1926, this smart colonial cottage perched on the side of a verdant valley is set within 62 acres of a lush rubber and tea estate at 1,100ft high. Take a wander through the plantation, or better still, go with Rosyth's hospitable manager for a thorough tour. The estate has many walking trails and bicycles are also available for guests' use.
Renovated in 2010, this characterful bungalow is home to nine ensuite bedrooms, a cozy TV snug and an open plan living/dining room, and is enveloped by a lush tropical garden. This breezy locality is immersed in blissful tranquility; the noisiest part of the day is dawn's exotic bird (and chipmunk) chorus.
The nine individually-designed bedrooms are air-conditioned and named after local fruits and spices and categorized into Classic Rooms, Deluxe Rooms, Classic Suites and Plantation Suites.
Rooms
Classic Rooms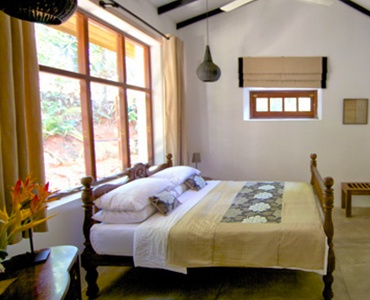 Clove room is spacious and is located in the Main House with twin beds that can be put together to make a king-sized bed if required. It also has a day bed that can sleep an additional guest. With access from the rear courtyard, the Mango room has a king-sized bed and large open plan shower room and large windows that overlook a private garden.
Room Facilities

Air-conditioning

Fans

WiFi
Deluxe Rooms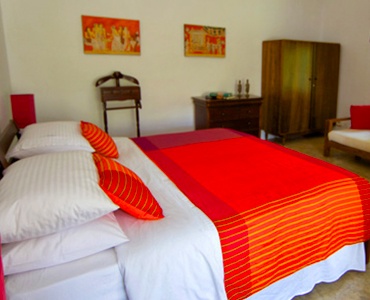 The Deluxe Rooms are larger and more luxurious, with Cinnamon and Coconut featuring four-poster beds. Relax in your own secluded outdoor area. Whilst Cinnamon is conducive for disabled access, Lime and Coconut interconnect through an internal staircase.
Room Facilities

Air-conditioning

Fans

WiFi
Classic Suite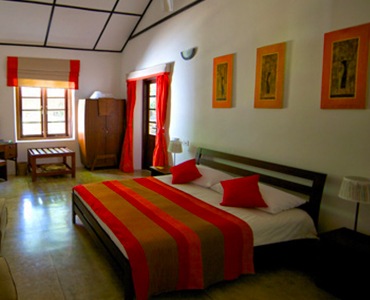 Cardamom features a king-sized bed and has access to a private side terrace furnished with rattan planters' chairs. Palm has twin single beds which can be configured as a double and is perfect for older children.
Room Facilities

Air-conditioning

Fans

WiFi
Plantation Suites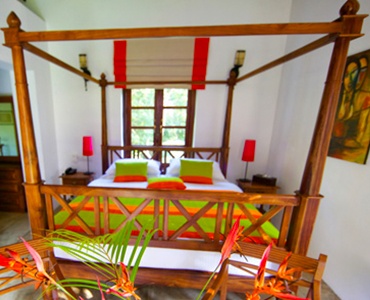 Located 50 meters away from the main house, the Tea and Pepper suites are secluded and private. Not only do both suites interconnect, you can enjoy outdoor baths either on the balcony or the terrace. Tea is the larger suite.
Room Facilities

Air-conditioning

Fans

WiFi
Hotel Facilities

Bird Watching

Laundry Service

Licensed Bar

Pool

Restaurant

Trekking

WiFi
Cuisine
Although the specialties are Sri Lankan and Indian cuisine, the kitchen can also prepare a selection of Western meals. The kitchen is open to guests, and staff will happily share recipes, cooking techniques and knowledge of local ingredients with you as they cook your meals. Dine wherever you wish. Both Western and Sri Lankan breakfasts are on offer to start the day. For lunch, you might like to tuck into a spread of Sri Lankan curries or perhaps pick something a little lighter. More local flavors and a selection of tasty Indian dishes are on the menu for dinner. Fresh fruit, curd and cakes are just some of the treats available as snacks or desserts.
Just for the kids
Although there are a few drops and slopes to watch out for, the garden is a fun playground for children. A babysitter can be arranged upon request.
Enquire Now
Get in touch with one of our knowledgeable travel experts to plan your Sri Lanka journey.