Tri Lanka is currently offering special flexible terms and conditions to help you book Sri Lanka with confidence despite the uncertainty surrounding global travel at the moment. Read our blog or contact one of our expert trip planners to find out how you can take advantage of this special policy.
Inspired by the ancient Greek mathematical theory of the golden ratio and the philosophy of sustainability, Tri Lanka is a unique boutique hotel located on the banks of the Koggala Lake 30 minutes from Galle Fort. Conceptualized and designed by award-winning architect Raefer Wallis and photographer, Rob Drummond, Tri is a haven that compliments its natural surroundings.
Surrounded by landscaped gardens and a sense of tranquility, the boutique hotel is accessible by road as well as by boat, making it an exclusive retreat for the mind, body and soul. Built using eco-friendly material to minimize the impact on the environment, Tri's unique design and the philosophy it follows has gained much global recognition since its inception.
The ten rooms at Tri Lanka are categorized into three and are located on different levels which are accessible by steps.
Rooms
Water Tower Rooms
Located in an elliptical tower covered in cinnamon sticks, these rooms are furnished with a king-sized bed with printed bed linen and an ensuite bathroom. The tower also has a rooftop area so that you can catch a glimpse of the sunset while sipping on a glass of wine or cocktail. These rooms are ideal for teenagers, solo travelers and travelers who are on a tight budget.
Room Facilities

Air-conditioning

WiFi
Lake Suites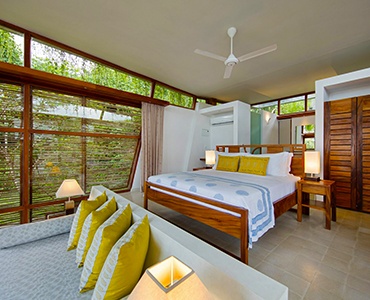 The Lake Suites are spacious and well-appointed with similar furnishings with the addition of a comfortable sofa, while the balcony offers a scenic view of the lake.
Room Facilities

Air-conditioning

WiFi
Villas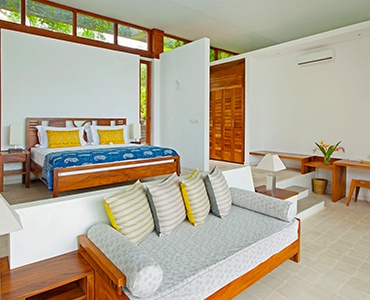 The Villas which consist of the Family Villa, Tri Villa and three Lake Villas have a similar layout as the Lake Suite but is far more spacious. One of the Lake Villas has a private plunge pool as well.
Room Facilities

Air-conditioning

WiFi
Hotel Facilities

Bird Watching

Cycling

Laundry Service

Licensed Bar

Pool

Restaurant

Spa

yoga
Cuisine
Keeping in line with the hotel's philosophy, Tri takes pride in offering a unique gastronomical experience to their guests by serving well-known Sri Lankan dishes with an international twist. All meals are prepared using fresh local produce whilst highlighting flavors unique to the island.
Just for the kids
Tri Lanka does not accommodate children under the age of 12 years.
Enquire Now
Get in touch with one of our knowledgeable travel experts to plan your Sri Lanka journey.