A luscious tropical garden, two acres of privacy and a striking swimming pool are just some of Why House's many enticements. Serene and secluded yet just five minutes' drive inland from the buzzing beaches of south coast Galle, Why House is a gorgeous eight bedroom hotel spread between two architecturally designed buildings and a pair of cabanas that smoothly blend sophisticated European elegance with the Sri Lankan tropics.
Views across the neighbouring paddy fields linger from the lushly tended garden that houses an amazing swimming pool. Refreshingly huge and stained a gorgeous shade of green Why House's pool is easily one of the biggest of any property around. The cushioned pavilion flanking the swimming pool is perfect for gossiping amongst friends or for curling up on your tod with a magazine or a book.
Access to Galle's beaches is just a hop and a skip from the hotel but we guarantee it will be harder than you think to leave the serenity of this gorgeous inland haven.
Rooms
The Main House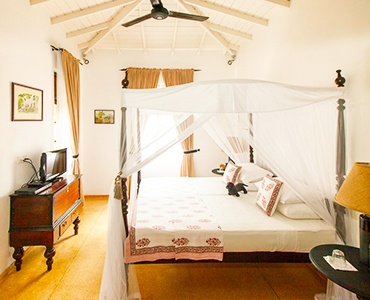 The three glorious guestrooms here all open onto the central living room and come with four-poster king-sized beds and French windows onto private garden view verandas furnished with dining tables. The front two suites also benefit from anterooms.
Room Facilities

Air-conditioning

Balcony

Coffee / Tea

WiFi
The Garden House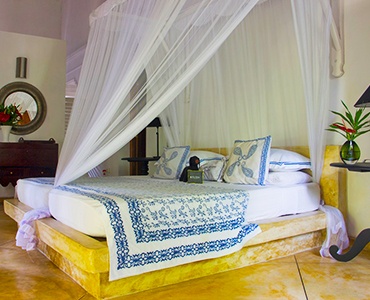 This includes three spacious bedrooms that open directly onto their own private garden verandas. Two of the bedrooms opening onto the front and side garden, come with split king-sized beds, whilst the third split-level bedroom with a king-sized bed opens onto a rear veranda that doubles up as the spot for massages.
Room Facilities

Air-conditioning

Balcony

Coffee / Tea

WiFi
The Cabanas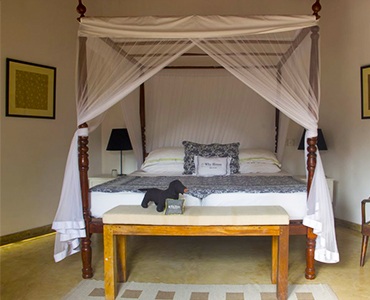 The two cabana bedrooms are immersed in the garden to the front of the property, just a few footsteps from the swimming pool. These two charming guestrooms sit side by side and are secluded from the rest of the hotel.
Room Facilities

Air-conditioning

Balcony

Coffee / Tea

WiFi
Entire Villa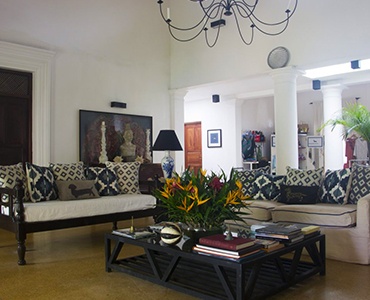 Why House may be booked as a whole on an exclusive villa rental basis. With its clever spread of bedrooms, Why House is an excellent place for family reunions and group get-togethers.
Room Facilities

Air-conditioning

Balcony

Coffee / Tea

WiFi
Hotel Facilities

Child Friendly

Laundry Service

Licensed Bar

Pool

Restaurant

WiFi
Cuisine
Boasting superb 360-degree views of the garden, the dining pavilion is a wonderfully sociable space and comes with a second open kitchen to concoct drinks or aromatic snacks from the open-top grill and BBQ. The chef is a whizz at cooking a variety of world cuisine and his Sri Lankan curries, British roasts, and Singaporean laksas. The food also features deliciously fresh seafood straight from the ocean. His cakes and desserts are something to talk about too. Choose from an English or traditionally Sri Lankan breakfast, dine on a light lunch, enjoy a sumptuous afternoon tea and dig into a dinner with cuisine from all over the world. Round it off with some delectable desserts. Why House has a full bar menu, however if you're booking the whole villa on an exclusive basis you can bring your own liquor with you or buy from local shops at cost price once you've arrived.
Just for the kids
An excellent spot for families with a large garden, swimming pool and a 10-minute walk to the beach.
Enquire Now
Get in touch with one of our knowledgeable travel experts to plan your Sri Lanka journey.