Slow down in Sri Lanka

Back
Trip Overview
These days, we live life at a fast-pace, and modern technology means that we are constantly available with little room to switch off. We believe that your Sri Lanka holiday should not be another busy experience where you are just ticking things off a list – it should be an escape where you can find peace and joy in moving slowly and taking time to absorb the beautiful world around you. Our Slow down in Sri Lanka tour is two-centre, with four nights each in Sri Lanka's tea country and on the south-west coast. Take each day at a leisurely pace, with a variety of gentle walking routes and viewpoint picnics in the hills and cooking classes, plantation visits and countryside cycling around Galle.
How long?
Depending on the time of your flights, you may need an extra initial night near the airport. We will be happy to advise you.
Price?
Price is available upon request. Rates vary depending on the time of the year and the number of people traveling. Email us if you're interested in this particular itinerary. Let us know when you'd like to travel and how many rooms you need in each hotel.
Day 1 to 5
Camellia Hills
Hatton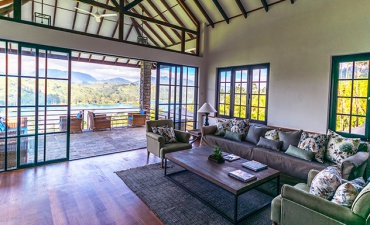 Camellia Hills
Hatton
Located in the central highlands of Sri Lanka, in the heart of the tea country surrounded by picturesque lush green valleys, Camellia Hills is a modern five-bedroom tea bungalow. A sister property of The Wallawwa in Kotugoda and Fort Bazaar in Galle Fort, Camellia Hills features a minimalist design appointed with contemporary furniture decorated in greys and blues and floral designs creating an ambience of warmth. The five bedrooms at the bungalow are split into Lakeview rooms and Camellia bedrooms. Architecturally designed to offer spectacular views of the Castlereagh reservoir from the central areas of the bungalow, Camellia Hills is a hotel that should not be missed.
Activities during your stay
Go on a viewpoint picnic and sunset boat ride
Walk through beautiful tea estates
Day 5 to 9
KK Beach
Galle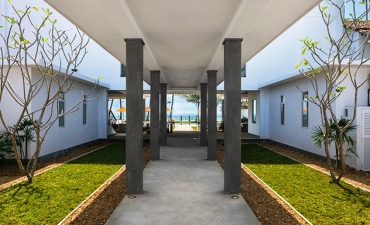 KK Beach
Galle
Settled across the stunning blue seas of the Indian Ocean in the southern coastal town of Habaraduwa, KK Beach is a stylish boutique hotel located 20 minutes from Galle.
Conceptualized and decorated by renowned interior designer George Cooper who has made a name for himself globally with his first hotel Kahanda Kanda, a romantic retreat located inland of Galle. Cooper has successfully channeled his love for the island by creating a chic hotel along the coastline.
Offering accommodation in ten suites, the interior at this beach front hotel features contemporary design blending in colours of indigo blue and white, with contrasting samples of local art in the backdrop. Sliding glass panels offer guests uninterrupted views of the ocean
The rooms at KK Beach are categorized into Deluxe, Suite Penthouse and Penthouse suites.
Activities during your stay
Go cycling around Galle's inland countryside
Visit a cinnamon plantation
Take a traditional cooking class
Relax on the beach
Enquire Now
Get in touch with one of our knowledgeable travel experts to plan your Sri Lanka journey.