Trek away from it all

Back
Trip Overview
Protecting our mental and physical health has never been more important or more challenging as we navigate the post-Covid world, and what better way to recharge your limbs and stimulate your mind than by exploring spectacular destinations on foot? Spend days trekking through the remote Knuckles Mountain Range, taking in the beautiful views, lush vegetation and varied wildlife as you wend your way through glittering tea estates. Afterwards, indulge in a range of Ayurveda treatments at the award-winning Santani Resort.
How long?
Depending on the time of your flights, you may need an extra initial night near the airport. We will be happy to advise you.
Price?
Price is available upon request. Rates vary depending on the time of the year and the number of people traveling. Email us if you're interested in this particular itinerary. Let us know when you'd like to travel and how many rooms you need in each hotel.
Day 1 to 3
Ashburnham Estate
Kandy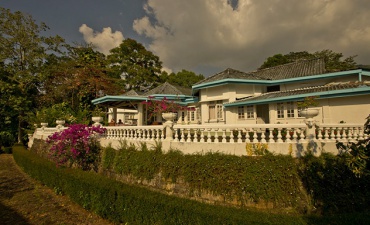 Ashburnham Estate
Kandy
Set amidst a 100-acre tea estate just one hour north of Kandy, Ashburnham Estate is a stylish boutique hotel boasting generous views of the Knuckles Mountain Range. Lovingly renovated to retain its 1930s charm, the bright interiors are splashed with soothing colors whilst the polished white floors enhance the old-world feel. Comfortable sofas in the living space instantly ease a weary traveler. Ashburnham has six rooms, each with unique décor; the absence of air-conditioning will hardly be felt as the weather here is cool. The resident naturalist ensures plenty of outdoor exploring; the estate is home to waterfalls and a variety of birds, squirrels, monkeys and butterflies. Ashburnham is ideal for those seeking some quiet adventure and picturesque surroundings.
Activities during your stay
Visit the waterfall at the end of the garden
Go on a gentle hike through terraced tea estates
Day 3 to 5
Madulkelle Tea and Eco Lodge, Kandy
Kandy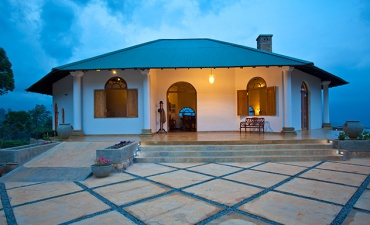 Madulkelle Tea and Eco Lodge, Kandy
Kandy
Madulkelle Tea Eco Lodge boasts one of the most scenic and serene settings in the tea country with a quiet valley below and the majestic Knuckles Mountain Range looming up ahead. Enveloped by lush green pine forests and undulating tea hills, Madulkelle's modern and comfortable accommodation is set amidst mountainous countryside, dotted with small village hamlets and Hindu temples.
Located 1000 meters above sea level, the area's climate is similar to that of the highlands; the days are clear and sunny while the evenings are cool and best spent by the fireplace at the tastefully furnished estate bungalow. In addition it also houses the reception, restaurant and lounge and the infinity swimming pool is only a short stroll away.
The 19 serene, tented and isolated lodges are divided into Deluxe and Honeymoon Suite. Named after birds that can be spotted in the area, each offer sweeping views of the valley below and the surrounding Knuckles mountain range.
Activities during your stay
Head to the pool or the spa
Go on nature trails around the hotel
Day 5 to 8
Santani Wellness Resort & Spa
Kandy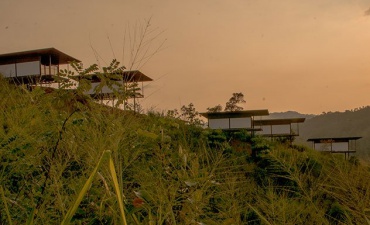 Santani Wellness Resort & Spa
Kandy
Surrounded by verdant mountains in Digana, an hour from Kandy, Santani is the latest wellness resort in Sri Lanka that promises to pamper the mind, body and soul. Influenced by holistic wellness, Santani is the perfect place to take a break from the hustle and bustle of day-to-day life and reconnect with nature. The resort's minimalist architecture affirms Santani's philosophy of connecting with the simple things in life.
Santani is scattered across 48 acres of lush green vegetation with the Knuckles and Hunnasigiriya mountain ranges towering at a distance. The resort's main living area and restaurant is located on a two-story glass building on a hillock offering a spectacular 360 degree view of the surrounding.
Referred to as Ambalamas after the traditional Sri Lankan word for overnight abodes, Santani has 16 stand-alone chalets and two additional rooms housed in a villa. As Santani focuses on wellness for both body and mind and such, they do not have televisions in the rooms. Wi-Fi is available on demand.
The resort has a resident ayurvedic doctor, who guests can consult for specialized ayurvedic treatments such as detox, stress relieving and slimming, among others.
Activities during your stay
Indulge in a variety of Ayurveda treatments
Practice yoga or meditation
Optional – extend your stay and do a personalised Ayurveda programme
Enquire Now
Get in touch with one of our knowledgeable travel experts to plan your Sri Lanka journey.