Trip Overview
If you're looking for some much-needed peace away from the incessant pressures of daily life, our Sri Lanka yoga vacation itinerary is food for the soul. Re-centre yourself, body and mind, amid beautiful tropical surroundings. This ten-night escape only goes to two places, so you can maximise your time relaxing instead of spending too much time travelling. After arriving in Sri Lanka, you'll travel to Kandy in the central hills and stay at The Samadhi Centre, which has many enchanting spaces in which to do yoga and meditation as well as a range of Ayurvedic spa treatments. Take day drips into Kandy and explore the town centre, visiting the Temple of the Tooth, Royal Botanical Gardens, market and nearby tea factory.
How long?
This is a 10 night, 11 day itinerary. If you don't have so much time to spare, then you can also do the trip in 7 nights, 8 days.
Price?
Price is available upon request. Rates vary depending on the time of the year and the number of people traveling. Email us if you're interested in this particular itinerary. Let us know when you'd like to travel and how many rooms you need in each hotel.
Day 1 to 6
Rukgala Retreat
Kandy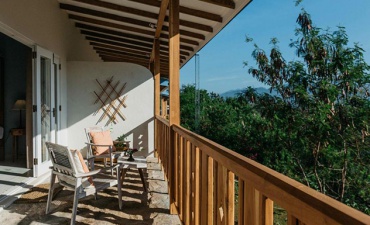 Rukgala Retreat
Kandy
Yogis and those with a love of the outdoors should take a close look at Rukgala Retreat. This intimate boutique hotel aims to unite travelers who have a shared passion for wellness, fitness and adventure through a range of exciting outdoor activities, high-quality yoga classes and relaxed communal dining. Set on the edge of the scenic Victoria Reservoir and surrounded by the spectacular Knuckles Mountain Range, there are opportunities for kayaking, paddle-boarding and hiking, either done independently or led by the in-house naturalist. Guests can also visit the nearby tea factory and ancient cave temple. A small swimming pool and stylish ensuite rooms, each generously sized and decorated with warm wooden furnishings, are peaceful spaces for relaxation at the end of the day full of activity.
Activities during your stay
Daily group yoga classes, meditation, Kayaking on the lake, Paddle boarding, guided hikes in Knuckles, tea plucking and waterfall ducking
Day 6 to 11
Tri Lanka
Tangalle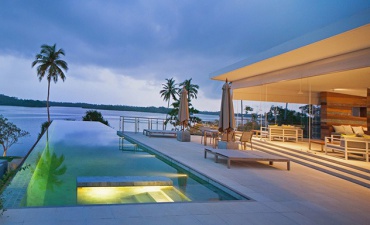 Tri Lanka
Tangalle
Inspired by the ancient Greek mathematical theory of the golden ratio and the philosophy of sustainability, Tri Lanka is a unique boutique hotel located on the banks of the Koggala Lake 30 minutes from Galle Fort. Conceptualized and designed by award-winning architect Raefer Wallis and photographer, Rob Drummond, Tri is a haven that compliments its natural surroundings.
Surrounded by landscaped gardens and a sense of tranquility, the boutique hotel is accessible by road as well as by boat, making it an exclusive retreat for the mind, body and soul. Built using eco-friendly material to minimize the impact on the environment, Tri's unique design and the philosophy it follows has gained much global recognition since its inception.
The ten rooms at Tri Lanka are categorized into three and are located on different levels which are accessible by steps.
Activities during your stay
Daily yoga
Bike rides
Cinnamon experience
Cookery classes
Galle fort walk with a local
Enquire Now
Get in touch with one of our knowledgeable travel experts to plan your Sri Lanka journey.