Trip Overview
This Sri Lanka wellness holiday offers rest and relaxation and the chance to correct any issues that have flared up during lockdown, from weight gain and poor diet to insomnia and a lack of energy. For your Ayurvedic retreat, we have chosen Santani, an acclaimed luxury wellness retreat which offers a variety of traditional treatments and enjoys spectacular views of the remote Knuckles Mountain Range. Go on gentle walks or challenging hikes; practice yoga and meditation; indulge in massages, herbal steam baths and shirodhara, and dine on healthy gourmet cuisine. Your stay at Santani can be extended from nine days to 21 days if you wish to do a full personalized Ayurveda programme.
How long?
Depending on the time of your flights, you may need an extra initial night near the airport. We will be happy to advise you.
Price?
Price is available upon request. Rates vary depending on the time of the year and the number of people traveling. Email us if you're interested in this particular itinerary. Let us know when you'd like to travel and how many rooms you need in each hotel.
Day 1 to 10
Santani Wellness Resort & Spa
Kandy Victoria Golf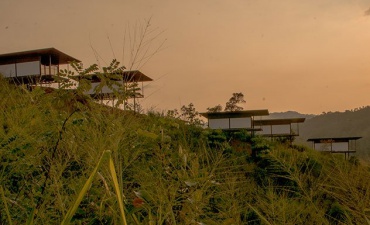 Santani Wellness Resort & Spa
Kandy Victoria Golf
Surrounded by verdant mountains in Digana, an hour from Kandy, Santani is the latest wellness resort in Sri Lanka that promises to pamper the mind, body and soul. Influenced by holistic wellness, Santani is the perfect place to take a break from the hustle and bustle of day-to-day life and reconnect with nature. The resort's minimalist architecture affirms Santani's philosophy of connecting with the simple things in life.
Santani is scattered across 48 acres of lush green vegetation with the Knuckles and Hunnasigiriya mountain ranges towering at a distance. The resort's main living area and restaurant is located on a two-story glass building on a hillock offering a spectacular 360 degree view of the surrounding.
Referred to as Ambalamas after the traditional Sri Lankan word for overnight abodes, Santani has 16 stand-alone chalets and two additional rooms housed in a villa. As Santani focuses on wellness for both body and mind and such, they do not have televisions in the rooms. Wi-Fi is available on demand.
The resort has a resident ayurvedic doctor, who guests can consult for specialized ayurvedic treatments such as detox, stress relieving and slimming, among others.
Activities during your stay
Experiment with Ayurveda
Go trekking in the Knuckles Mountains
Do yoga, independently or with a teacher
Lie by the pool and enjoy the views
Enquire Now
Get in touch with one of our knowledgeable travel experts to plan your Sri Lanka journey.