3 Sisters is currently offering special flexible terms and conditions to help you book Sri Lanka with confidence despite the uncertainty surrounding global travel at the moment. Read our blog or contact one of our expert trip planners to find out how you can take advantage of this special policy. 3 Sisters is a beautifully inviting private beach house located towards the island's Southern tip just beyond the Matara town. Nestled atop a secluded beach, 3 Sisters have direct access to one of the most amazing beaches in the area, perfect for surfing with its clean waves breaking over sandbars just a short paddle from the shore. The property's named after the expatriate owner's 3 daughters, and it's modelled after its original Dutch owner. The one-time simple cottage has been turned into a beautiful beach retreat that remains faithful to the key features of the original Dutch-style cottage, including a sweeping veranda and high ceilings that feature throughout the house and blending in understated antique pieces with simple and functioning modern comforts. The villa has Wi-Fi, DVD players and sound systems are also available. The property's also well-designed to accommodate large groups without intruding on one's personal space. If you wish, you could also board the daily seaplane from Koggala to Hatton, for which we can book seats and make arrangements. Prices are available on request, and conditions apply.
Rooms
Poolside Room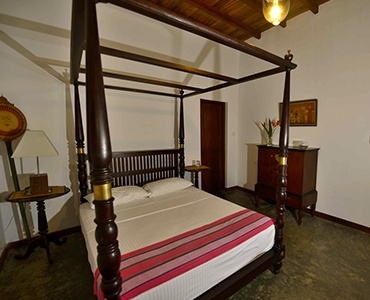 Located on the ground floor, this room is furnished with a queen-sized bed, ensuite bathroom and opens out to the living room. The room offers views over the pool and garden with access to the sea.
Room Facilities

Air-conditioning

WiFi
Courtyard Room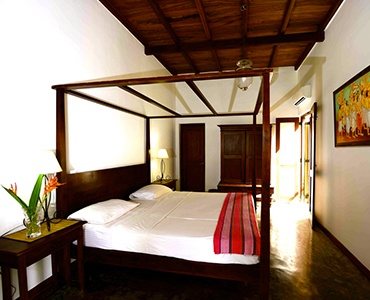 Featuring a queen-sized bed and ensuite bathroom, this room benefits from a private courtyard.
Room Facilities

Air-conditioning

WiFi
The Loft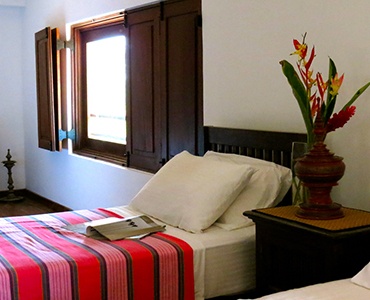 The Loft is located upstairs, and is an expansive living space that is both one-of-a-kind and open plan. Since there is a separate external entrance, it suits young families well. Look onto the pool and ocean beyond which contribute to a truly memorable tropical experience.
Room Facilities

Air-conditioning

WiFi
Villa Facilities

Beach Access

Child Friendly

Pool

TV with cable

WiFi
Cuisine
With markets in Matara selling locally caught seafood and fresh produce along with modern supermarkets, the staff at 3 sisters can prepare memorable spreads for your breakfast, lunch and dinner on request. The Sri Lankan rice and curry is especially good. The best way to describe the approach to dining at 3 Sisters is 'simple' – think great home-cooked food, but with someone else doing all the cooking. The menu is homely and sure to please. Breakfast is a wonderful spread of Sri Lankan and Western classics with seasonal fruits, locally baked breads, jams, roti, curries and eggs however you like them. For lunch you can enjoy either a selection of vegetarian curries, pasta and salad, or a platter of sandwiches. When it comes to dinner time, you can dine under the veranda or on the deck with the stars overhead. Dinner is always a special time; try out the fish, prawn, chicken or pork curries which will be some of the best you'll have while in Sri Lanka and the selection of seasonal vegetarian curries are simply amazing.
Just for the kids
3 Sisters welcomes children of all ages and is perfect for families.
Enquire Now
Get in touch with one of our knowledgeable travel experts to plan your Sri Lanka journey.