A private residence for well over a decade, Uda Kanda is a beautiful three-bedroom villa set atop a small hill overlooking the canopy of a jungle, surrounded by 3.5 acres of lush rubber estate, that now operates as a luxurious villa. The villa is warm, cozy and personal, much like a family home than a commercial villa; but with all the amenities and comforts of a modern day villa. Friendly dogs, a huge open living and dining space, comfortable television room, open eastern kitchen and an ambalamas shaded by bougainvillea beside a 50 foot infinity swimming pool, allows for the most relaxed setting away from the busy beaches. It's less than 10 minutes from the Galle Fort and on a bright sunny day from the infinity pool, keen bird-watchers will be delighted to witness many vibrantly colored birds flying playfully in the breeze or on their migratory route overhead. The villa comes with four friendly full-time staff; a cook, housekeeper, gardener and night watchman. If you wish, you could also board the daily seaplane from Koggala to Hatton, for which we can book seats and make arrangements. Prices are available on request, and conditions apply.
Rooms
Bedrooms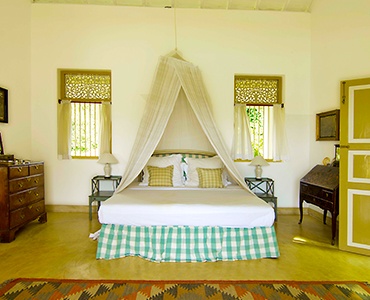 The villa can sleep 6 in three beautiful rooms which have been designed to remain cool without A/C. Individually furnished with family heirlooms and art from across Asia, each room has ensuite bathrooms and an outdoor terrace. King-sized beds, soft cotton sheets and fluffy pillows ensure a good night's rest at the end of a busy or lazy day.
Room Facilities

Air-conditioning

Fans
Villa Facilities

Bird Watching

Child Friendly

Laundry Service

Pool

TV with cable

WiFi
Cuisine
Podi, the villa's resident chef makes great homemade meals, both Western and Sri Lankan. Podi would be happy to consult with you each day about meals. The kitchen sources much of its vegetable and fruit from the estate, which also produces jackfruit, cinnamon, curry leaf, lemon grass, peppercorn, tea, banana, mango, pineapple, papaya, lime and much more. The villa's dining table can be moved in or around the villa's garden for different alfresco dining options.
Just for the kids
The villa is very child friendly, and welcomes children of all ages. Board games and books as well as a large collection of DVDs for kids will be available in the TV room area. A cot/high chair is available; and the staff are great with kids so baby-sitting can be arranged.
Enquire Now
Get in touch with one of our knowledgeable travel experts to plan your Sri Lanka journey.