This atmospheric villa is located on the banks of the Bentota River and has a unique revolutionary theme, reflected in the striking paintings of characters such as Mao Zedong and John Lennon, and a home-from-home feel. Fronted by an antique wooden door, the ground floor of the villa has a comfortable living area – which is furnished with sofas, antique pieces, a large flat-screen TV, home theatre system and a good collection of DVDs and books – and a dining area with a long banquet table and open sides so you can enjoy the cool breeze. The villa has five bedrooms including a grand master suite, which has views, through glass doors, to the river beyond. The swimming pool sits in the centre of the property on the edge of the garden, and the surrounding wooden decking extends to the river edge. This is a lovely place to sit in the early evening with a drink in hand and also the perfect spot to hop onto a boat, doughnut or jet-ski for some exhilarating water-sports.
Rooms
Deluxe Master Suite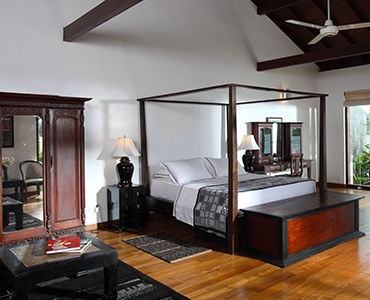 The Deluxe Master Suite is a large wooden-floored room, with a four-poster bed and en-suite bathroom with a 'his' and 'hers' washbasin. For a relaxed afternoon or rainy evening you can enjoy watching a DVD on the flat-screen TV. The glass doors open onto your own private deck where you can watch the sunset over the river.
Room Facilities

Air-conditioning

Fans
Suites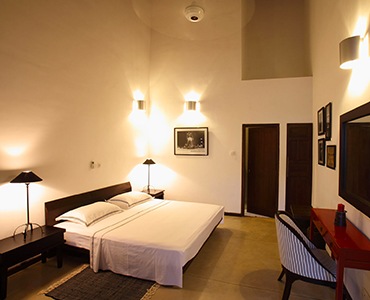 The other four rooms are located in pairs either side of the central dining area. They each have their own theme ranging from the 'Boxing Room', which has photos of Mohammed Ali on the walls, to the 'Beatles Rooms', 'The Liberation Room' and 'The Vietnam Room'. Each has an en-suite bathroom with a rain shower.
Room Facilities

Air-conditioning

Fans
Villa Facilities

Beach Access

Child Friendly

Pool

TV with cable

Water Sports
Cuisine
In-keeping with the villa's eccentric style, the kitchen at the villa has a 1940s retro theme and is complete with modern appliances. The friendly chef will prepare meals as you wish. He has an extensive repertoire of Western and Sri Lankan dishes.
Just for the kids
Villa Republic Bentota is suitable for families and groups of friends. Children will love the pool and the water sports center next door.
Enquire Now
Get in touch with one of our knowledgeable travel experts to plan your Sri Lanka journey.