Where to experience the best authentic Sri Lankan food?

Back
Sri Lanka is an island of smiling faces, crashing ocean waves and exhilaratingly spicy food. It's a place where you can blend all three of these, easily, and end your day on a high. While it isn't difficult to point someone in the direction of smiling faces and frothy ocean waters kissing our golden shores, discovering authentic Sri Lankan food is more of a challenge. We're here to help.
Sri Lankan cuisine is not simple, quite far from it in fact. The ingredients used however, are as modest as could be. From chilli and turmeric to cloves, cardamom and curry leaves, the flavor blend created is exotic. What is perhaps most strikingly different when you visit Sri Lanka and sit for lunch, is that one plate of rice is accompanied by at least three different curries. So needless to say, a Sri Lankan meal is a feast on a plate no doubt!
When it comes to trying your hand at Sri Lankan cuisine, there are few top places in the island that we haven't tried and tested over the years. Here are just three to set your thoughts racing:
Ulagalla Resort, Cultural Triangle
Nearly five hours north from bustling Colombo lies Ulagalla Resort, originally an ancestral mansion, whose calm, quiet and utter peace has now won the hearts of its many travelling dwellers. Just recently, Ulagalla Resort opened the doors to 'Kamatha', a new restaurant set amidst endless paddy fields. 'Kamatha' refers to a sacred, uncultivated area in a paddy field where farmers extracted the harvest from the ripe paddy. Featuring a traditional kitchen setup and a degustation menu which includes heirloom rice varieties and vegetables grown in the gardens of Ulagalla Resort, Kamatha succeeds in its endeavor – to transport diners to a different, simpler way of living and dining. A meal at Kamatha will include introduction to traditional spices, utensils and preparation methods while you will also have the luxury of being able to complement the fresh flavors with some well thought-out wine pairings.
https://www.srilankainstyle.com/hotel/ulagalla-resort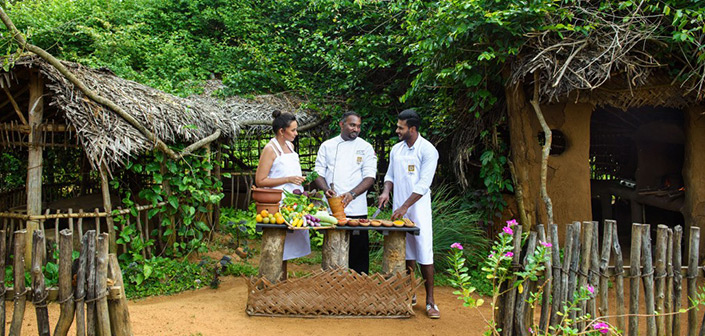 Why House, Galle
A home away from home for many a traveler, Why House, is a renovated old mansion hidden away down a sleepy lane in Sri Lanka's famed coastal town of Galle, and let me tell you- this place is food heaven! From healthy salads and warm fluffy rice to brownies and homemade ice cream, it's just all so good. And with so much great fare, the offering that Why House brings to the foodie scene is much welcome, and this includes a cooking class that allows you to get your hands messy and perhaps even try your luck at making a perfect hopper. What's a hopper you ask? Well, it's this bowl-shaped pancake made with a rice flour and coconut milk mix. Its middle is soft and slightly squidgy while the edges are all nice and crispy. Hoppers are usually accompanied by either some fiery chicken or fish curry, but perhaps a hopper's best marriage is to a spicy red katta sambol – a chutney made with onions, chilli powder, dryfish (a much loved local ingredient), and a generous squeeze of lime. This is one of Sri Lanka's absolute favorite eats, and to learn how to make one yourself is sure to be an adventure in itself!
https://www.srilankainstyle.com/hotel/why-house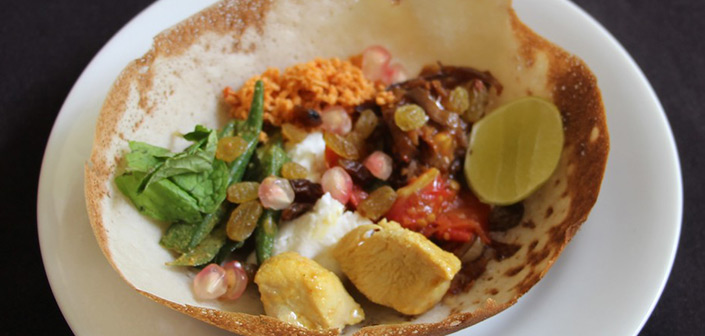 Culinary Ceylon, Colombo
If all this is not theatrical enough for your liking, well, we hear you! So, let us introduce you to Culinary Ceylon, where food is definitely not just about the flavors and ingredients. Discreetly hidden under the guise of just a small wayside shop or 'pettikade' as locals call it, Culinary Ceylon is located in the heart of Colombo and offers a carefully curated 8-course epicurean adventure of Sri Lanka's diverse food. The experience aims to bring together flavors and delights from all parts of the island and you may be in for a pleasant surprise or two in the process. Your host will talk you through the history and culture behind each dish and the setup is unlike what you'd normally find – so be prepared for plenty of drama and an evening with a difference!
Click here for more information.
How to make this experience a part of your itinerary?
Our vision for our blog is to build an invaluable resource for independent inquisitive travelers wanting to travel to Sri Lanka in a way that goes beyond the conventional and takes people further and deeper both physically and emotionally. It's about having a fuller, richer, more meaningful trip. We also want to be a practical resource. Every article is 'actionable', you are able to make it part of your itinerary in some way. For tips on how to make any of these tips part of your journey send us an enquiry