Trip Overview
If you're looking for some much-needed peace and quiet away from the incessant pressures of daily life, our Sri Lanka yoga holidays are food for the soul. Re-centre yourself, body and mind, in the midst of beautiful tropical surroundings. This ten-night escape only goes to two places, so you can maximise your time relaxing instead of spending too much time traveling. After arriving in Sri Lanka, you'll travel to Kandy in the central hills and stay at The Samadhi Centre, which has many enchanting spaces in which to do yoga and meditation as well as a range of Ayurvedic spa treatments. Take day drips into Kandy and explore the town centre, visiting the Temple of the Tooth, Royal Botanical Gardens, market and nearby tea factory. You can also spend an afternoon with an artist at his home and discuss music, art and philosophy with him and his daughter. From Kandy, travel down to the south coast to the Talalla Retreat, another wellness-oriented property with an exquisitely peaceful atmosphere. There are many things to do on offer in the surrounding area: see the ancient Mulgirigala Rock Temple; watch marine turtles nesting at Rekawa; go on jeep safari at nearby Yala National Park, or birdwatching at Kalametiya Bird Sanctuary, and go whale watching in Mirissa.
How long?
This is a 10 night, 11 day itinerary. If you don't have so much time to spare, then you can also do the trip in 7 nights, 8 days.
Price?
Price is available upon request. Rates vary depending on the time of the year and the number of people traveling. Email us if you're interested in this particular itinerary. Let us know when you'd like to travel and how many rooms you need in each hotel.
Day 1 to 5
Ulagalla Resort
Anuradhapura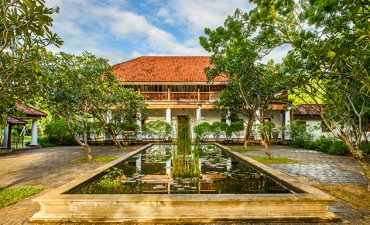 Ulagalla Resort
Anuradhapura
Ulagalla is currently offering special flexible terms and conditions to help you book Sri Lanka with confidence despite the uncertainty surrounding global travel at the moment. Read our blog or contact one of our expert trip planners to find out how you can take advantage of this special policy.
Ulagalla Resort will reopen on 1st December 2020.
Ulagalla incorporates an eco-friendly design blended with modern comforts. Spread across 58 acres of working paddy fields, organic vegetable plots and ornamental gardens that host 25 chalets, a sensitively-restored ancient Wallauwa (manor house), a 30m swimming pool, a gym and a sensual sunken spa.
Public areas of the resort – a first-floor restaurant, fully-equipped bar and reception area – are all located in the main house, a 150-year-old fully-restored mansion once home to the village chieftain. Linking all areas of the resort is an eco-friendly transport system through on-call golf buggies and pedal bicycles, two of which are provided for guests in each chalet. With an emphasis on sustainability, Ulagalla operates on a solar energy farm that powers half of the energy requirements and their chalets are built using recyclable material.
The activities offered at Ulagalla – archery, horse riding, kayaking and nature walks – have also been chosen for their minimal impact on the environment.
Activities during your stay
Have tea with an artist and his daughter and discuss art, music and philosophy
Wander around the restful Royal Botanical Gardens
Enquire Now
Get in touch with one of our knowledgeable travel experts to plan your Sri Lanka journey.