Rock Villa is a wonderful private beach villa that was once an old wallawwa (manor house). After being caringly refurbished by Sri Lankan design guru Taru, the property maintains its original architectural features of courtyards, veranda, and hand-carved ornate timber window frames. Interiors are contemporary and stylish, decorated with Dutch-period antiques, plush sofas, and colorful soft furnishings combined with contemporary art and sculptures, fresh lotus flowers and ethnic touches. The main wallawwa consists of two bedrooms and a living and dining area opening out to the gardens, whilst a newly-constructed set of rooms and a lounge area blend in seamlessly with the old wallawwa architecture. There is also a spacious dining pavilion overlooking the 50ft. swimming pool and gardens, which lead directly onto the beach (after taking a few strides across the simple, single-gauge railway line which runs at the bottom of the garden – most find the occasional trains interesting and unobtrusive). Rock Villa has six rooms in total – two Deluxe Rooms, two Superior Rooms and the Wallawwa Suite, which consists of two rooms and is booked in its entirity. Though it typically sleeps 12 people in total, two more can be accommodated with extra beds. Interiors are stylishly furnished with twin or king-sized beds and equipped with all modern facilities and ensuite showers. Other facilities include: a TV lounge with books and board games; laundry and room service and complimentary Wi-Fi in public areas. Relaxing massages can be arranged with prior notice. The beach here is relatively isolated, and safe for swimming and snorkeling during the season from December to April. Rock Villa must be booked as a whole and can comfortably accommodate 12 guests.
Rooms
Superior Rooms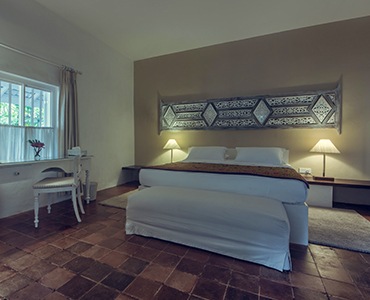 Of the two Superior Rooms, one is a double and the other has twin beds. Both open to a veranda and the garden beyond.
Room Facilities

Air-conditioning

Fans

WiFi
Deluxe Rooms
The two Deluxe Rooms are located closer to the entrance and open out to a veranda with garden views. Interiors are furnished with king-sized beds.
Room Facilities

Air-conditioning

Fans

WiFi
Wallawwa Suite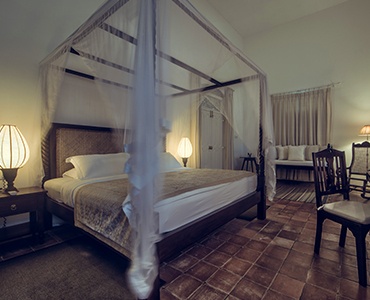 This is the original wallawwa which also has a living and dining room opening out to a private veranda with garden views. Two additional beds can be provided upon request.
Room Facilities

Air-conditioning

Fans

WiFi
Villa Facilities

Beach Access

Bird Watching

Laundry Service

Pool

Restaurant

WiFi
Cuisine
Traditional Sri Lankan rice and curries, as well as other international cuisine, is served. Meals are prepared with fresh seafood purchased from the local fishermen and vegetables from the local market.
Just for the kids
Young children are welcome at the villa, but should be supervised when crossing the railway line to get to the beach.
Enquire Now
Get in touch with one of our knowledgeable travel experts to plan your Sri Lanka journey.