It's impossible not to fall in love with this exquisitely private 'castle in the sky'. Perched on a hillside amidst a 40-acre rubber and tea plantation, The Ark boasts jaw-dropping 180 degree views across lush paddy-carpeted valleys and tree-cloaked ridges of undulating hills rising verdantly from West to East. The design of The Ark is based upon a 'watch hut' (a simple thatched structure built into a tree) used by farmers to safeguard their crops overnight. Sharing a similar A-framed design, The Ark's steel and wood construction is undeniably contemporary and serves as a luxurious hide for viewing the wide array of wildlife in the area. The Ark's home to a top floor living and dining area open to the views and a small pantry, along with three wood-paneled ensuite bedrooms across three floors. Adjacent to the house via a decked walkway – and sharing in the magnificent valley views – is an infinity swimming pool and a generous timber terrace fringed by wildlife-inhabited jungle.
Rooms
Double Rooms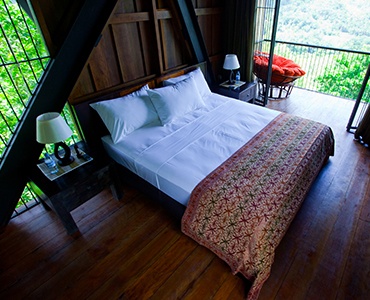 The three bedrooms are spread across three floors. Each bedroom displays stunning views over a forested ridge of verdant hills and a lush valley. The rooms are furnished with double beds, lamp-topped side tables, painted cupboards and wall-mounted fans assist to keep the interiors cool. Ensuite bathrooms are fitted with good hot water showers.
Room Facilities

Fans
Villa Facilities

Cycling

Pool

TV with cable

WiFi
Cuisine
Rajapaksa, The Ark's experienced chef is on hand with his repertoire of Sri Lankan and Western cuisine. Meals are served when you want them, and choice of dining location is also up to you. Although there's no full kitchen within the house, there's a small pantry with a fridge (stocked with soft drinks), sink, drinking water and facilities for making tea and coffee. Breakfast, lunch & dinner is included in the nightly rate. Snacks and non-alcoholic beverages are provided free of charge on a limited basis. No alcohol is served at The Ark. Guests are welcome to bring their own, and no corkage is charged. We recommend you stock up at the airport duty free.
Just for the kids
Sheer drops and steep steps make this house unsuitable for children under five, and even kids up to ten years old will still need to be supervised at all times.
Enquire Now
Get in touch with one of our knowledgeable travel experts to plan your Sri Lanka journey.